Very Good Advice From Bill Watterson, in Comic Strip Form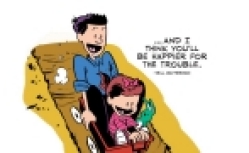 On his cartoon blog Zen Pencils, Gavin Aung Than turns inspirational quotes into comic strips. For his newest strip, he illustrated a quote from Bill Watterson's 1990 speech at Kenyon College in the style of Calvin and Hobbes, which Than considers "the greatest comic strip of all time." The comic strip below "is basically the story of my life," Than writes, "except I'm a stay-at-home-dad to two dogs." You can read more at Zen Pencils, where this comic originally appeared. It is reprinted here with his permission. Click on the image for a larger version.



TODAY IN SLATE
Politics
The Democrats' War at Home
How can the president's party defend itself from the president's foreign policy blunders?