Simpsons Movie References, Part Deux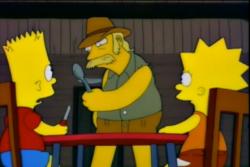 Not only are there more references—this edition is a little longer than the last—but the references during this period became more overt, inviting exactly the kind of allusion-spotting that leads to compilations like this one. If these supercuts continue, I'll see you back here for "Simpsons Movie References Part VII: Adrian's Revenge."
For those who missed it, part one is also embedded below.