Simpsons Movie References, Part Deux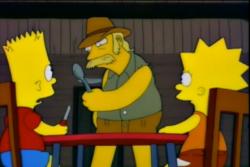 Not only are there more references—this edition is a little longer than the last—but the references during this period became more overt, inviting exactly the kind of allusion-spotting that leads to compilations like this one. If these supercuts continue, I'll see you back here for "Simpsons Movie References Part VII: Adrian's Revenge."
Advertisement

For those who missed it, part one is also embedded below.
TODAY IN SLATE
War Stories
The Right Target
Why Obama's airstrikes against ISIS may be more effective than people expect.