TV Will Be a Lot Less Gay Next Year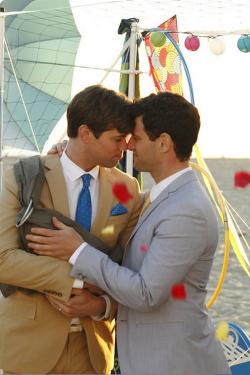 As the broadcast TV channels prepare to reveal their fall schedules this week, the renewed-or-canceled announcements that blasted out at the end of last week have already determined one characteristic of the 2013-14 TV season: It will be a lot more heterosexual than the current season, which officially ends next Wednesday.
Among the shows that won't be back next year are The New Normal, Go On, Smash, The Office, 1600 Penn, Happy Endings, Don't Trust the B___ in Apartment 23, 90210, Emily Owens, M.D., The L.A. Complex, Partners, and Southland, all of which featured gay or lesbian characters. (You can find a full list of the cancelations—and renewals—at the bottom of this post.)
Advertisement

With the possible exception of The Office, which finally expired a couple of seasons later than might have been ideal, these shows were all killed because they didn't attract enough viewers. Network TV shows exist to deliver eyeballs to commercials, and if they fail to do so in large enough numbers, they're doomed, no matter what.
Nevertheless, I'm sad to wave goodbye to some of these shows. (Others, like the execrable Partners and the sweet but totally unfunny 1600 Penn, deserved their fate.) This was the year that U.S. primetime television went to new places with its gay characters, many of whom were unquestionably, proudly, and uncompromisingly gay—but had a lot more going on besides.
Two scenes stand out from the season. One is from Go On, in which widower Ryan King (Matthew Perry) tried to recover from his wife's death with the help of a support group, one of whose members was Anne (Julie White), who had also recently lost her wife. Over the course of the season, Anne and Ryan went through many similar challenges—returning to the dating scene after a long and happy relationship, wondering what their late partner would make of their new lives, general grieving—and as a mother, she faced some other issues that childless Ryan was spared.
It may seem ridiculous to trumpet a lesbian being permitted to experience such basic emotions. But until recently gay characters were almost exclusively defined by their sexuality, while also being denied the freedom to express it. In this scene, in which Anne and Ryan compete for the favors of bisexual Talia (Perry's former Friends co-star Courteney Cox), she's allowed to be sexual, sneaky, and funny.
Elsewhere, on The New Normal, a show centered on the lives of an affluent gay couple, David, an Eagle Scout, tried to help a beleaguered local scout troop. This despite the Boy Scouts of America's ban on gay scoutmasters. Then someone outed him to the national office. In this scene, Scoutmaster Pat explains to David why he reported him: Pat isn't a homophobe, but he doesn't want his son to have a gay role model.
In some ways this is a retrograde return to TV gays constantly being confronted with homophobia. But it's also an honest expression of a father's complicated hopes for his son. David is still rich and successful and in good health, but he's also being denied the chance to fully participate in society, and he's hurt. It's a nuanced portrayal of homophobia that hasn't appeared on television before. With the loss of all these shows, I'm not optimistic that we'll see it again soon.
ABC
Renewed: Castle, Grey's Anatomy, Last Man Standing, The Middle, Modern Family, Nashville, The Neighbors, Once Upon a Time, Revenge, Scandal, Suburgatory
Canceled/Ended: 666 Park Avenue, Body of Proof, Don't Trust the B—— in Apartment 23, Happy Endings, How to Live With Your Parents (For the Rest of Your Life), Last Resort, Malibu Country, Private Practice, Red Widow, Zero Hour
CBS
Renewed: 2 Broke Girls, 48 Hours, 60 Minutes, The Amazing Race, The Big Bang Theory, Blue Bloods, CSI, Criminal Minds, Elementary, The Good Wife, Hawaii Five-0, How I Met Your Mother, The Mentalist, Mike & Molly, NCIS, NCIS: LA, Person of Interest, Survivor, Two and a Half Men, Undercover Boss
Canceled: CSI: NY, Golden Boy, The Job, Made in Jersey, Partners, Rules of Engagement, Vegas
The CW
Renewed: America's Next Top Model, Arrow, Beauty and the Beast, The Carrie Diaries, Hart of Dixie, Nikita, Supernatural, The Vampire Diaries
Canceled/Ended: 90210, Cult, Emily Owens, M.D., Gossip Girl
Fox
Renewed: American Dad, American Idol, Bob's Burgers, Bones, Family Guy, The Following, Glee, Hell's Kitchen, Hotel Hell, Kitchen Nightmares, The Mindy Project, New Girl, Raising Hope, The Simpsons, The X Factor
Canceled/Ended: Ben & Kate, Cops (moving to Spike), Fringe, The Mob Doctor, Touch
NBC
Renewed: Chicago Fire, Community, Grimm, Law & Order: SVU, Parenthood, Parks & Recreation, Revolution
Canceled/Ended: 30 Rock, 1600 Penn, Animal Practice, Deception, Do No Harm, Go On, Guys With Kids, The New Normal, The Office, Ready for Love, Rock Center With Brian Williams, Smash, Up All Night, Whitney
Not Yet Announced: The Biggest Loser, Celebrity Apprentice, Hannibal, Off Their Rockers, The Voice
TODAY IN SLATE
Medical Examiner
The Most Terrifying Thing About Ebola
The disease threatens humanity by preying on humanity.