Alan Moore Sings for Occupy Wall Street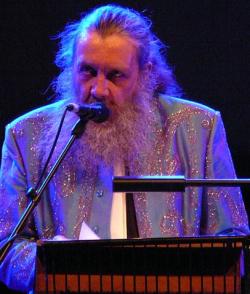 Watchmen and V for Vendetta author Alan Moore is often described, accurately or not, as a bit of a recluse. There are some subjects he would prefer not to speak about, let alone sing about.
But sing is what Moore does—sort of—on this new single released in support of the Occupy Wall Street movement. In a Bill Callahan-like sing-speak over spare acoustic guitars (courtesy British rocker Joe Brown), Moore sketches a few grim English scenes of desperate citizens, each seemingly within an inch of either dying of their circumstances or snapping and turning murderous.