Obama Backs Gay Marriage, News Sites React
ABC News broke the story with a fairly straightforward front page:

Advertisement

Fox Nation, on the other hand, was quick to declare Obama's "War on Marriage":

Before later doing some flip-flopping of their own (perhaps "War on Marriage" was a smidgen strong).

One spin, popular with both conservative and liberal outlets, was to imply that Obama's announcement was a sort of coming out:
Abroad, in the United Kingdom, the BBC considered it their top story:

The New York Times focused on Obama's calling it a personal conviction: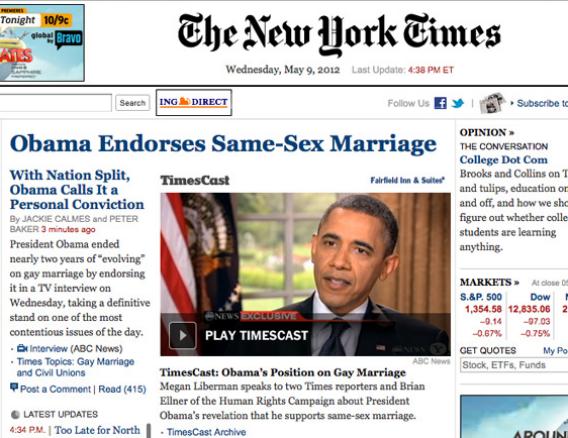 While Breitbart, perhaps reflecting its late founder's libertarian leanings, focused on how Obama said it would be left to states to decide:

Gawker began the backlash, suggesting that the announcement "amounts to much less than meets the eye":

While Out at once took a moment to celebrate, questioned why it took Obama so long, and wondered what he thought of the latest from Madonna.




TODAY IN SLATE
History
Slate Plus Early Read: The Self-Made Man
The story of America's most pliable, pernicious, irrepressible myth.