Animal Collective Surprise with Two New Tracks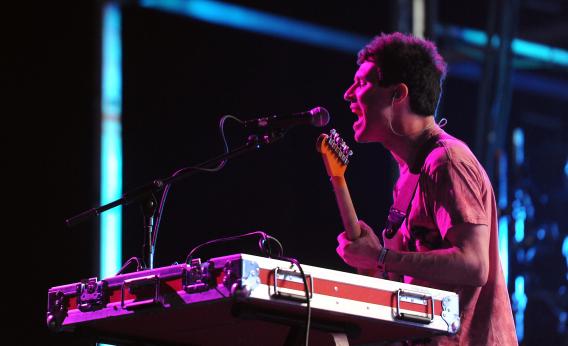 "Honeycomb," the first of two surprise new Animal Collective tracks, announced via their website late Sunday night, opens with the ping of a radar, as though seeking out a band that has lately been AWOL. Animal Collective, where have you been?

Since breaking out in 2009 with Merriweather Post Pavillion—the most acclaimed album of that year—and following that with the equally excellent Fall Be Kind EP, the group has split their focus between solo releases and psychedelic audiovisual art projects. Avey Tare put out Down There in 2010, Panda Bear released Tomboy in 2011, and their only releases as a band have been the "visual album" ODDSAC and, most recently, the Record Store Day release Transverse Temporal Gyrus, a sound collage based on their trippy "happening" at the Guggenheim.

So it's good to have Animal Collective—a pop act at the end of the day, whatever museum might host their "sound collages"—back to recording songs again.
The A-side, "Honeycomb," is a bouncy uplifting track and the more immediately appealing of the two. Ben H. Allen, the producer behind the house-music-inspired Pavillion, returns for another sample-heavy track. The prevailing mood is ebullience: Avey Tare's expressive vocals compel you to "Fill up your heart / It spills outside," and the mix seems similarly packed to bursting. One bloop in particular sounds like the jump sound effect from Super Mario Bros (8-bit music has been resurgent in recent years), adding to the childlike atmosphere.

The black-and-white album art for the B-side, "Gotham," matches its more pained, regretful tone. I've long preferred Animal Collective's more joyful anthems, but the shout-along harmonies on the chorus here are thrilling—as is the breakdown about three minutes in (it's been decades since backward vocals could be called "experimental," but they're still fun). Still, "Honeycomb" packs as many ideas into its three minutes as "Gotham" does in its well over five—it's clear why "Honeycomb" is the A-side. But both songs are worth a listen.

Previously
Did You See This? Animal Collective and Hot Chip on The Simpsons
TODAY IN SLATE
Medical Examiner
Here's Where We Stand With Ebola
Even experienced international disaster responders are shocked at how bad it's gotten.