Dirty Projectors Return with New Single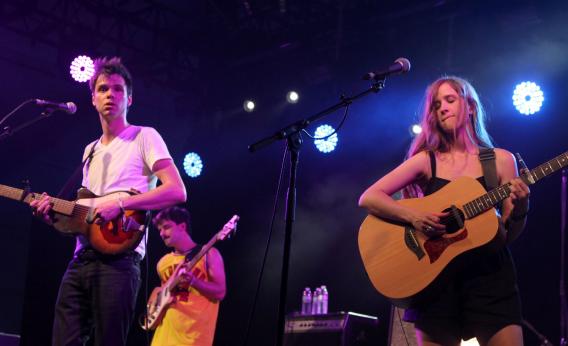 It's been three years since the release of Dirty Projectors' masterful Bitte Orca, the critical smash that also gave rise to an unexpected hit in "Stillness Is the Move." Today, after a longish pause—they collaborated with Björk on the underappreciated one-off Mount Wittenberg Orca, and band member Angel Deradoorian has done some outside work on her solo project, but they haven't released any new material simply as Dirty Projectors—they return with their new single "Gun Has No Trigger."

Dirty Projectors have explored various modes over the course of their career, but "Gun Has No Trigger" finds them returning safely to the territory of "Stillness Is the Move"—albeit in a tone less exuberant and more mournful. Like "Stillness", "Gun" layers vocal harmonies over a stripped-down drum beat that evokes classic hip-hop, without the extended tangents and intricate Longstreth guitar-noodling that otherwise features prominently on Orca.

The song hasn't remained exactly the same, though. Longstreth's voice (always expressive, but very much an acquired taste) takes lead, while the bass assumes a 1960s Brit-pop approach. Add the drums, and voíla—the instrumentation is as minimal as ever. Still, from a band that previously attempted an album-length reinterpretation of Black Flag's Damaged and an opera about a protagonist named Don Henley, it's comforting to see the band settled into a more accessible sound.