What's the Best Spielberg Film?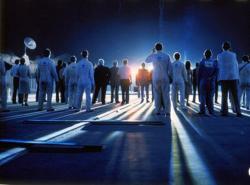 Today in Slate, Bill Wyman shares what he learned by watching every last one of Steven Spielberg's movies, including not-so-Blockbuster fare like The Sugarland Express and Always. As part of his Completist, he also ranked the best and worst Spielberg films, from "The Sublime" (Jaws, E.T.) to "The Schlock" (Empire of the Sun, War Horse, Hook) down to the monstrous disappointments that made Wyman think "We're Going to Need A Bigger Boat" (The Terminal, Always).

Got a beef with Wyman's Spielberg rankings? Now you have two ways to weigh in. Readers that think that War of the Worlds and Minority Report are more than "Dreckish Commercial Stuff" or that A.I. is more than a "Massive Misfire" can vote for their favorites in the poll below. Spielberg fans that want to ask Wyman about his decision-making process, or what it was like to sit through the worst of the Spielberg canon, can ask him during a live Facebook chat. UPDATE: The chat is now Tuesday at 11 a.m. EST.

Check back on Slate's Facebook page on Tuesday at 11 a.m. EST to join the discussion. The poll closes Friday at noon.