The Internet Defends Independent Bookstores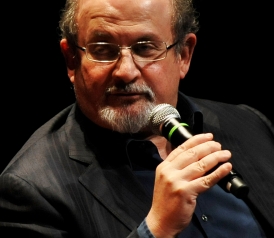 Earlier this week, Slate technology columnist Farhad Manjoo wrote an essay championing Amazon over local bookstores. Bookstores, according to Manjoo, are "frustrating," "difficult to use," and "economically inefficient." Amazon, on the other hand, has "ignite[d] a national passion for buying, reading, and even writing new books."
The backlash against Manjoo's piece was immediate and, in many cases, intensely emotional. (The headline in the New York Observer—"Everybody in New York Hates Slate Reporter Who Complained About Indie Bookstores"—was only somewhat hyperbolic.) Novelist Salman Rushdie, no stranger to criticism himself, tweeted, "Book lovers are 'cultists'? Maybe, but this man is a moron." Algonquin Books, an independent publisher, called Manjoo's piece the "Dumbest article of 2011" (perhaps an allusion to the question Slate posed last week). Slate commenter Alvin Orloff, in the fine tradition of schoolyard taunts, retorted, "Farhad Manjoo is expensive, inefficient, and doesn't deserve to be saved."
Many of the responses to Manjoo's piece were quite a bit more calm and composed. Some writers, tweeters, and commenters defended independent bookstores by praising their communal nature. On Flavorwire, Judy Berman disputed Manjoo's comparison of the aesthetic experience of browsing an independent bookstore to that of shopping at Whole Foods, saying, "For many indie bookstore lovers, myself included, part of what is important about supporting these businesses is that, unlike Whole Foods, they're small, and we can get to know the people who own them." In a Salon piece called "What Slate Doesn't Get About Bookstores," Will Doig argued that "Unlike almost any other kind of retail establishment, bookstores operate as quasi-public neighborhood trusts that give city dwellers more than they receive in return."
Others took issue with Manjoo's claim that Amazon does a better job of nourishing the book industry than independent bookstores. "Independent bookstores serve as the test market for new writers," and without that test market, novices might never find readerships, contended Chandra Steele of PC Mag. In Slate's comments section, author Jess McConkey offered support for Steele's claim, recalling, "At the beginning of my career, I received a tremendous amount of support from those independent booksellers that you are now suggesting no one frequent."
Economic arguments played a role in some rebuttals to Manjoo's article, with many respondents arguing that independent bookstores strengthen local economies in ways that Amazon can't. "Local independent bookstores pay sales tax, first off, so as far as I'm concerned that should be an end to the argument there," wrote the independent bookseller behind the blog The Towering Irrelevance in a response that, at over 3,000 words, was perhaps the most thorough on the Internet.
One of the most thoughtful reactions came, perhaps unsurprisingly, from novelist Richard Russo, whose New York Times op-ed critical of Amazon's practices spurred Manjoo's piece. On Facebook, Russo examined Manjoo's praise of Amazon's low prices in a philosophical light:
Mr. Manjoo admits that he's a fan of both Amazon and comparison shopping because, he says, he hates "paying more than he should." That's an interesting choice of words. Does he mean, for instance, that he hates paying more than he "has to"? This is the crux of the matter. What should we pay?
In a conclusion that was perhaps the polar opposite of Salman Rushdie's tweet, Russo wished Manjoo (and everyone else) "the happiest of holidays." He continued, "Thanks to technology, we have interesting questions to ask ourselves about what we'll buy this year, and where and why. Our job, Mr. Manjoo's and mine, is not so much to answer those questions as to articulate them clearly."