In New Special, Louis C.K. Hilariously Maintains His Everyman Appeal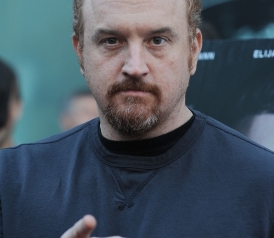 On Saturday, comedian Louis C.K. put up a new one-hour special on his website, offering it for purchase at the bargain price of $5, via Paypal. The five bucks gets you not one but two downloads of the show; you can also stream it twice.
C.K. told The New York Times last month he was releasing the special this way in part to avoid corporate relationships. "Everybody is outnumbered," he said, "because everything in your wallet represents all these contentious relationships with these huge companies." Because he was releasing the special through his own website, he explained, "You don't have to have an iTunes account in good standing. You don't have to have your credit card at Netflix updated. You can be a loser and watch this thing. You can be in prison."
Those comments were in the back of my mind when I saw C.K. perform a week later (two days after he taped the special), and they contributed to my sense that this hour of comedy was more politically tinged than his previous specials. Watching the filmed and edited version (cut down to about 60 minutes from roughly 100) of a slightly different set C.K. did earlier in the week, what sticks out is not a newfound political bent (one of the more "political" bits, about evolution, was cut), but C.K.'s commitment to connecting to his audience as a kind of stand-up everyman.
This starts with the opening credits, which are similar to the ones on his FX show, Louie. C.K. walks up Broadway to the Beacon Theatre, goes inside as fans themselves file in (they beam, of course, when they see him), and then makes his way to the Beacon's rather modest green room.
Cut to the stage. Rather than hearing some disembodied voice announce his presence, C.K. just walks out while the house lights are still up, tells everyone to sit down, and does the announcements himself (no cell phones, no flash photography, no Jews—that last one's a joke, obviously, typical of C.K.'s "brushback" style).
One of the special's best bits involves C.K. wrestling with the distance that his recent success has put between himself and most Americans. He talks about what it's like to ride first class on an airplane, how insanely better it is than coach—tossing in, as a confessional aside, "I'm not like you." Then he describes seeing soldiers walk past him in first class on their way to coach, and how he always thinks about offering one his seat—immediately feeling better about himself for having the thought, even though he never even comes close to acting on it.
It's a classic C.K. joke, in which he implies a moral high ground while remaining careful not to occupy it, instead keeping himself on the same confused, imperfect level as his audience. C.K. has said that he wishes he could wear a suit on stage, because he loves that look (back in the mid-90s, he often attempted it), but it just makes him sweat too much. Now it's hard to imagine him doing a special in anything other than the impeccably ordinary black t-shirt and blue jeans he has worn for the last four.
It takes more than a relatable outfit to stay connected with fans, of course. So over the last few days, after making the special available, C.K. has twice taken questions directly from fans online—first on Twitter, then earlier today on Reddit. The latter Q&A session is particularly remarkable, covering everything from why C.K. hasn't made a movie in a while, why he didn't have sex with a young female fan who offered to sleep with him in Toronto, and why he doesn't use certain derogatory words as often as he used to. (After staging a philosophical discussion of the word "faggot" on his TV show, and doing a famous bit in a previous special on the words "nigger" and "cunt," C.K. doesn't say any of those three even once, I don't think, in the new special.)