All We Want for Christmas Is More Community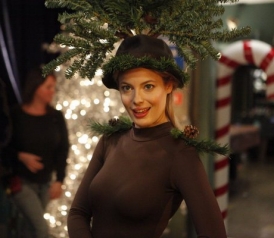 It's Christmastime, the end of a not-so-upbeat semester for Community, the NBC sitcom that follows seven low-achievers at a rigorously undistinguished community college. As of today, the show is off the air for an indefinite hiatus. Last night's episode was only the halfway point through the full season that was planned, some indefinite further part of which has presumably already been produced. There's no word when NBC will broadcast the rest of the season, but it's not going to be in January.
It's hard for the show to be cheery in any case: "It's been a dark semester," notes Jeff. "I basically killed a guy." In the episode entitled "Advanced Gay," Jeff shouted at an older guy until he keeled over and eventually died. This was the father of Pierce, who is played by Chevy Chase. The guy was a creep and a racist, but still.
During Community's first season, the Christmas episode saw Shirley, the shrill Christian woman, trying to foist her beliefs on the others, only to come up short against the frustrating array of religious diversity in front of her. (Her classmates include an atheist, an agnostic, a Jehovah's witness, a Jew, a Muslim, and someone who belonged to something that sounded suspiciously like a cult.) The show ended with a genuine, not-very Christmas-y general brawl in the student quad.
And last year the show gave us "Abed's Uncontrollable Christmas," a bizarre, stop-motion-animation anti-special that saw the characters being picked off one by one Willy Wonka-style, as Abed, the Asperger's-afflicted soul of the group, searched for the meaning of Christmas.
Last night, the show revisited a cultural sideswipe at the insufferable Fox show Glee, also mocked in an episode from last year called "Paradigms of Human Memory." In that earlier episode, which was full of fake memories, the group fake-remembered filling in for the school's glee club after a tragic bus crash. Tonight we learn the backstory to that. (Notwithstanding the fact that, in the universe of the "Paradigms" episode, the crash never happened.)
It's Christmas, and the glee club is doing guerilla performances in the cafeteria, much to everyone's annoyance. Only Jeff has the smart solution: He tells ASCAP the group is doing songs without permission, and gets the practice shut down. The singers have a collective nervous breakdown, and that leaves the school without a Christmas pageant. The study group comes under pressure to fill in for the glee club again from a far-too-chipper glee club teacher. "Equal parts Hanson and Manson," rules Jeff, and all agree that they won't help out this time.
"Comes under pressure" is perhaps too gentle a way to put it: It's more like a zombie attack. One by one the group gets picked off by the evil glee Christmas virus, which operates primarily via song. The most elaborate of these attacks is an extended infantile-sex-kitten-in-a-Santa-suit number by Annie, directed, of course, at Jeff. (The First Law of Sitcom Relationships decrees that all hot TV comedy characters must eventually hook up—and this season kicked off with Jeff and Annie singing the line, "We're gonna sleep together." There's been a lot of sexual tension since, but, as far as we know, no funny business has yet resulted.) A salute to the pop music of the Boomer generation debauches the older Pierce, and a song about Jesus's birthday takes Shirley to the dark side. A rap number lets Donald Glover, who plays Troy, show off his hip-hop chops.
These songs aren't ever going to be Christmas classics, but there are some funny touches: "Boop-be-boop-be-doop doop… sex," Annie's song ends, for instance. The climax comes at the Christmas pageant, where the true meaning of Christmas is again considered. Part of it involves finding out who was behind that bus accident that killed the previous glee club.
This was a fullfillingly dense episode. At the beginning, Jeff says his favorite Christmas tradition is "trimming the Hellraiser"—apparently a reference to hanging tinsel on the guy with all the needles sticking out of his face from the horror series of that name. Abed says he's going to spend Christmas watching a bootleg copy of the 1981 Inspector Spacetime Holiday Special—so critically reviled, he notes, that after it aired, the creator had his knighthood revoked. Inspector Spacetime is a Community invention, a fictional Dr. Who-like British series Abed is obsessed with, but the reference here is to the Star Wars Holiday Special, such a flop that it was never broadcast again and George Lucas never released it on video—though of course it's available online.
We see a glimpse of a rock band performing as a hologram, an allusion to a horrific appearance by Jefferson Starship in the Star Wars special. I didn't quite get the significance of the song the group sings, which had this enjoyably terrible lyric: "I tried to find a way around / And then get behind your wall / I tried to reach the top but found your wall was much too tall."
At one point Annie says that on Christmas Day she'll be going to the movies with her bubbe. "Both of them?" Troy asks.
Amusingly, the ASCAP cease-and-desist letter Jeff prompts comes before the glee singers actually utter a line from any actual pop song. Perhaps Community didn't have the budget to shell out for royalties either?
And Troy and Abed apparently have a vending machine in lieu of a refrigerator in their apartment.
All we want for Christmas is for this not to be the show's last-ever episode.
A review of the show's last episode, "Foosball and Nocturnal Vigilantism," is here. Our complete Community coverage is here. Details on the show's mid-season replacement are here. My piece on the show's most elaborate concoction, "Paradigms of Human Memory," is here.