You're Doing It Wrong: Fruitcake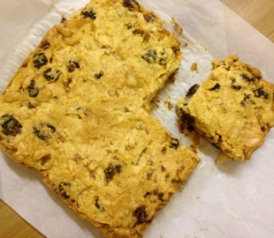 Fruitcake has been around for centuries. Originally, it was an orgiastic mishmash of every rare and delicious ingredient obtainable: dried fruit, nuts, butter, sugar, liquor. To anyone who lived prior to the late 20th century, a bite of fruitcake must have been thrilling.
Today, hyper-processed junk food designed to light up the same neural pathways as cocaine is readily available, and it has, like Internet porn, made once-exhilarating pleasures seem monotonous. Fruitcake may be the missionary position of cakes: It smacks of Puritanism, wholesomeness, tedium. In an era when a bowl of breakfast cereal can contain more sugar than nutritionists recommend consuming in a day, fruitcake looks suspiciously… healthy.
It doesn't have to be this way. There is a fruitcake for the modern age: sweet, buttery, rich, and guaranteed to satisfy even the most over-stimulated taste buds. It contains dried cherries, almonds, amaretto, and marzipan—that chewy, doughy, intensely sweet almond paste. (Allow me a grateful tip of the hat to Nigella Lawson, whose Marzipan Fruitcake in How to Be a Domestic Goddess changed the way I thought about fruitcake forever.)
All fruitcakes consist of dried fruit and nuts lightly bound with a boozy batter. This in itself is not a problem. The problem is recipes that call for every nut and dried fruit. A typical ingredients list for fruitcake might contain upwards of a dozen kinds of fruit and nuts, the combination of which yields an unsettlingly muddy-tasting confection.
Instead of looting the bulk section of your local health-food store, choose one fruit to lead and one to play backup. Let cherries be your focal point—and I don't mean glacé cherries, the terrifyingly sticky orbs that come in stoplight red and neon green. Dried cherries are far darker in color—and harder to find, too, but their moisture and sweet-tart flavor make the effort worthwhile. Dried pears are harder to find still, but they are the unsung hero of this cake: They practically meld with the batter to form an incredibly dense, sweet crumb.
Enveloping the fruit at every step of the way are almonds in five forms: slices, powder, paste, extract, and liqueur. Almond is a natural bedfellow for cherries, and taking the almond theme to excess is what makes this cake extraordinary: The combination of amaretto and marzipan is as saccharinely intoxicating as the most overproduced Bon Iver track.
If this sounds complicated, rest assured that it isn't. Cherry-Almond Fruitcake requires some thoughtful grocery shopping and a fair amount of oven time but very little effort. And the results will light up all the right neural pathways.
Cherry-Almond Fruitcake
Yield: 9 to 12 servings
Time: 3 to 3½ hours, mostly unattended, plus time to soak the fruit
6 ounces dried pears, chopped (a little more than 1 cup)
1 cup dried cherries
⅓ cup plus 2 tablespoons amaretto (almond liqueur)
Oil or butter for greasing the pan
½ cup sliced or slivered almonds
1 cup all-purpose flour
Grated zest of 1 lemon
¼ teaspoon salt
7 ounces marzipan
8 tablespoons (1 stick) butter, softened
¼ cup sugar
2 large eggs
½ teaspoon vanilla extract
½ teaspoon almond extract
1. Put the pears and cherries in a small bowl. Pour ⅓ cup of the amaretto over the dried fruit, cover, and let sit at room temperature at least 2 hours or overnight if time allows.
2. Heat the oven to 250°F. Line the bottom and sides of an 8- or 9-inch square or round pan with foil or parchment paper and grease the lining. Put ¼ cup of the almonds in a food processor and process until finely ground; combine in a medium bowl with the remaining ¼ cup almonds, the flour, the salt, and the lemon zest. Chop or tear the marzipan into small pieces and add to the flour mixture, stirring to coat each piece with flour and prevent the marzipan pieces from sticking together.
3. Beat together the butter and sugar with an electric mixer or by hand until light and fluffy. Beat in the eggs, vanilla extract, and almond extract. Add the flour mixture and stir just until combined (the batter will be very thick). Fold the dried fruit mixture into the batter.
4. Transfer the batter to the greased pan and bake until the cake is golden brown and a toothpick inserted into the center comes out clean, 2 to 2½ hours. Drizzle the remaining 2 tablespoons amaretto over the top of the cake and cool thoroughly before removing from the pan and serving. (The cake will keep for at least 2 weeks wrapped in foil or parchment paper at room temperature.)