Gossip Girl Goes Highbrow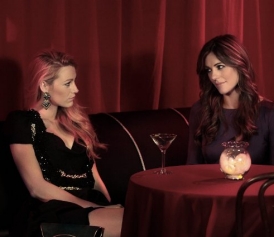 Gossip Girl, a show devoted to chronicling "the scandalous lives of Manhattan's elite," has always taken spectacular advantage of filming in New York City. Every landmark building willing to put up with craft-service tables and camera crews has played host to a party or fashion show, and if there is an overpriced SoHo boutique whose dressing room has not yet been darkened by Blair Waldorf or Serena van der Woodsen, it's surely just a matter of time.
The show has also been home to more cameos than the Victoria & Albert Museum. The producers have persuaded denizens from the worlds of fashion (designers like Diane Von Furstenberg, Tory Burch, and Georgina Chapman; pop-culture fashion gurus such as Rachel Zoe and Tim Gunn), media (including Vogue editors Hamish Bowles and Lauren Santo Domingo and W supremo Stefano Tonchi), and music (Sonic Youth, Robyn—even Lady Gaga before she took over the world) to mug for their cameras.
Gossip Girl has always had an especially soft spot for scribblers—and not just for fleeting appearances. Jay McInerney first showed up on the show in 2008, when Dan Humphrey was his intern, but the author of Bright Lights, Big City had the sense to play writer Jeremiah Harris rather than appear in the credits as "Himself." (He recently told Vulture this was because he didn't want "all the 16-year-old girls in America to hate me" when it came time to fire young Dan.) Meanwhile, Blair's stepfather, Cyrus Rose, is played by Wallace Shawn, author of such plays as Aunt Dan and Lemon and The Designated Mourner (though he's popularly known for saying "inconceivable" in The Princess Bride). If "New York royalty" were a real thing, Shawn, son of New Yorker editor, William Shawn, would surely outrank Blair's fiance, Prince Louis of Monaco.
Of late, though, Gossip Girl has taken an even more highbrow turn. In recent episodes, the show's chronic name-dropping has involved movie director Agnieszka Holland (admittedly a brilliant choice to distract Blair's longsuffering maid Dorota, who shares a homeland with the director of Europa Europa), art-house cinema the IFC Center (Dan previously favored the Film Forum), restaurateurs Daniel Boulud and David Chang, and writer Lorrie Moore.
The smart set has also been parading before the cameras. When Dan Humphrey published a book, his editor was actual Simon & Schuster publisher Jonathan Karp, who popped up in two scenes—one in his office, and one at a fancy restaurant. (If all first novelists get that much attention from Karp, it's no wonder the imprint he founded puts out just 12 titles per year.) Film director David O. Russell ran into Serena on what looked like the Santa Monica Pier, and the entire cast of Gossip Girl wandered through Punchdrunk's immersive theater experience Sleep No More, which, Nate Archibald kindly explained, is "kind of like Macbeth in an old hotel, and the audience can follow the performers from room to room."
My favorite though, was the sad young literary man chosen to represent the ultimate New York media insider. Whom did Diana Payne, publisher of Gotham's newest scandal sheet, the Spectator, choose for her swain when she wanted to make a splash on the gossip pages? None other than n+1 editor and recent Occupy Wall Street arrestee Keith Gessen, of course. (Several blogs pointed out that this high literary get still didn't compare with that other great television GG, the Gilmore Girls, which once shot a scene featuring a pugilistic scribe by the name of Norman Mailer.)
What does it actually feel like for these non-actors to stand under Gossip Girl's lights? Earlier this season, Barneys creative ambassador and Slate columnist Simon Doonan accompanied Blair Waldorf down the runway. When I asked him to describe the experience, he told me:
Sitting in the trailer getting my face painted next to Leighton Meester [who plays Blair] ranks as one of the most glamorous moments of my life. It was also extremely hot. On set, I had one spoken line: "Go right ahead!" I managed not to fluff it, except on one take it mysteriously came out as, "Don't mind if I do." Penn [Badgley, who plays Dan] commented positively on my poise and professional delivery. He also said, "Don't give up your day job," but in a kind and caring way. I would do it again in a heartbeat.