Which Faulkner Novels Should HBO Adapt?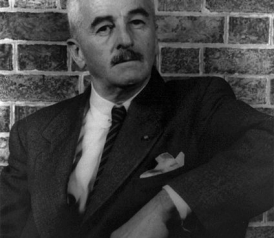 This week brought news that David Milch, who created NYPD Blue and Deadwood, has signed a deal with HBO to adapt multiple works by the Southern literary titan William Faulkner. This got us thinking: Which of Faulkner's many novels and stories would work best on TV?
Clearly this is a question for true Faulkner aficionados, so I posed it to a handful of writers who know his work intimately—starting with a novelist who's no slouch himself when it comes to literary adaptations.
"I was delighted to read this news," Salman Rushdie told me over email, "both because I look forward to seeing Yoknapatawpha brought to life, and because my admiration for David Milch's work on Deadwood knows no bounds." This is especially high praise coming from Rushdie, who was less taken with another acclaimed HBO show, The Wire (though he's said he'll give it another chance).
Prose also has some advice regarding style. "My hope is: lots of voiceover, those gorgeous Faulknerian sentences. My fear is: True Blood without the cool vampire fangs."
Film critic Jonathan Rosenbaum, author of Essential Cinema and several other books, says that Light in August is his "favorite of all novels," but, unlike Prose, he does not want to see it adapted. He has fairly specific reasons: "Because Carl Dreyer and Luis Buñuel both wanted to adapt it, and I can't imagine any contemporary adaptation doing justice to what Dreyer or Buñuel might have done or the novel's period (the contemporary Depression) or the novel's form. And the same," he says, "goes for As I Lay Dying, which both Dreyer and Buñuel also showed some interest in adapting, not to mention The Wild Palms."
Like Rushdie, Rosenbaum would like to see Sanctuary get another turn. "Just because the two previous attempts to adapt this effectively sleazy horror story have failed doesn't mean that it couldn't be done with style and conviction."
Book critic Mark Athitakis, who blogs at American Fiction Notes, envisions Milch working on a grand scale. "I have a hard time imagining a Faulkner-inspired HBO series that doesn't focus on the Snopes clan. Mendacity, conditional ethics, class struggle—they strike me as a perfect fit for the themes of an HBO drama. If Milch doesn't want to take it on," he says, "David Simon should." (Athitakis is obviously a bigger fan of The Wire than Rushdie is.)
And Athitakis already has at least one episode in mind for that hypothetical HBO series about the Snopes family: He'd like to see one based on "Spotted Horses," a short story that would provide "an opportunity to spotlight Faulkner's humor. He's never quite shaken off his reputation for being dense and difficult—here's a chance to show that there's a good bit of comedy built into his moral entanglements."
Athitakis doesn't think any of Faulkner's work is "unfilmable," but says it would "be a surprise, if not a miracle," if Milch were to convert the "structure and style" of As I Lay Dying into something cinematic. Which isn't to say it can't be adapted: There's "enough action and drama in the story itself without having to smash it into a dozen or so perspectives."
Which of Faulkner's novels and stories would you like to see adapted? Are any of them unfilmable? Let us know what you think in the comments.