Gay Marriage on TV: Keep It Real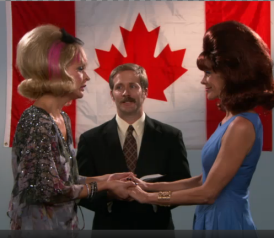 I was all set to be hurt, outraged, and offended when I heard that two of the female characters in TV Land's Hot in Cleveland had "accidentally" gotten married in the show's Season 2 finale this summer. How typical, I huffed: treating same-sex marriage like a second-rate union, suitable only for an antic punch line.
After all, this wasn't the sitcom world's first fake gay marriage. In Season 6 of It's Always Sunny in Philadelphia, Charlie (Charlie Day) and Frank (Danny DeVito), who already share a bed platonically, got married for the benefits (not that either of them had health insurance to confer). The apparently widespread belief that extending marriage rights to same-sex couples guarantees an uptick in sham unions (see also I Now Pronounce You Chuck & Larry) is tiresome, but we're talking about It's Always Sunny in Philadelphia here. (It's too dark for me, and I'm from Manchester.)
In Season 4 of The New Adventures of Old Christine, Christine (Julia Louis-Dreyfus) married her friend Barb (Wanda Sykes) to prevent the latter's deportation. It took a few episodes before the dim-bulb characters realized that, thanks to the Defense of Marriage Act, marrying another woman would do nothing to help Barb stay in the States. This rankled. Even though Old Christine was a resolutely pro-gay show, and even though Sykes is an out lesbian herself, the treatment of the marriage felt problematic. It's the newspaper "error on the front page, correction back among the personal ads" problem—people still believe the erroneous information if they miss the rectification. I know too many gay couples separated by this law to feel OK about viewers believing same-sex married couples who happen to be from different countries actually have the right to live together in America.
And then I saw the episode of Hot in Cleveland. In that Season 2 finale, "Elka's Wedding Day" (you can watch it here until Dec. 29), the three hotties of a certain age who relocated from Los Angeles to that Copenhagen on the Cuyahoga wake up in a Hangover-like daze the morning after the bachelorette party for Elka (Betty White). They are peculiarly coiffed, surrounded by odd reptiles (an iguana and several frat boys), and possess no recollection of the events of the night before. Eventually, they recall what happened—the most significant occurrence having been the accidental ingestion of dog medicine, which acts as an intoxicant and inhibition-remover in humans. Under this peculiar influence, Melanie, played by Valerie Bertinelli, ate communion wafers, fell into a baptismal font, and launched a wet T-shirt contest (only the first two events are shown on screen); while Joy (Jane Leeves) and Victoria (Wendie Malick) acted out by running away to Canada with the road company of Hairspray, where they were inexplicably joined together in holy matrimony by a gentleman invested with that power by the province of Ontario. In other words, not exactly a realistic scenario. Nevertheless, my annoyance level still hovered around, say, 6 out of a possible 10.
Last night, Hot in Cleveland returned for its third season and addressed the marriage plot head-on—and, to my surprise, adeptly, reducing my outrage level to a mere 3 at worst. "Elka's Choice" (you can watch it here, at least for a while), picked up where the previous season ended, with Joy and Victoria suddenly remembering what happened the night before, right as Elka walks down the aisle. From an offense-taking point of view, Joy's first response was not good. "It never happened," she says. "We will never speak about our wedding to anyone outside this room. I am not your wife. You are not my husband." In other words, it's not a real wedding, so we can just ignore it. But then the show took a different path, as it often does. (There are basically two Hot in Clevelands—the one with Melanie and Elka is traditional and sweet; the one with Joy and Victoria is modern and tart. How deliciously the two strands blend together determines how good each episode is.)
Having more or less agreed to erase her marriage to Joy from the book of life, Victoria finds herself invited to appear on The Chatter ("angrier than The View and talkier than The Talk"), and when she inquires about the possibility of joining the regular cast, she's told the producers are looking for "a gay one—to compete with the Rosies and the Ellens." Victoria immediately realizes that announcing her gay marriage will help her career, which has always been her No. 1 priority. She embarrasses Joy and comes off like a sexist husband showing off his little lady—but it's at least in character, and occasionally funny.
Meanwhile, Elka, torn between three lovers, is trying to decide which of her suitors to settle for. She and her husband Bobby, reunited 30 years after he faked his own death, have "heat," but they have nothing else in common. (Kudos to the show's producers for presenting a golden-age couple hot for each other. In a medium that tends to focus on couples in their 20s, it's nice to at least hear about passion between people born in the 1920s.) In comparison, Joy and Victoria seem like a paragon of companionate marriage. As Victoria puts it: "At least our fake gay marriage is based on friendship. I mean, sure, we bicker a bit, and Joy can be demanding, but at the end of the day we laugh, and we like each other."
Aside from the heat between Elka and Bobby, there's an odd rejection of sex in the episode. The frat boys have hairy stomachs, and the dude-loving women of The Chatter all seem revolted by the thought of doing it with their men. Still, this doesn't excuse the odd endorsement of lesbian marriage as a sexless but basically friendly arrangement (all the bickering, none of the making out). On the other hand, there was no overt homophobia—no one expressed opposition to genuine gay marriages; the opprobrium was occasioned by Victoria's career-driven deception—and Joy and Victoria's marriage was used to provide positive contrast to a loveless heterosexual union.
Still, I'd prefer not to see any more sham gay marriage sitcom plots until a) a comparable number of shows include fake straight marriages, and b) gay people achieve full civil rights. Until then, let's keep the TV same-sex marriages legit, OK?