You're Doing It Wrong: Butternut Squash Soup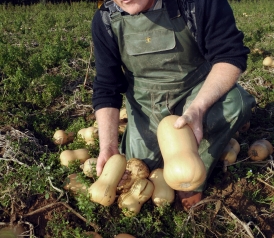 Butternut squash soup has devolved over the years from a fancy-restaurant appetizer (cue frizzled sage leaf) to a vacuum-sealed staple of supermarket shelves. Any food snob worth his salt knows to avoid the stuff in the carton, most notable for a strange flavor and texture that only an unholy ménage à trois of "evaporated cane juice" (i.e., sugar), "natural flavor," and rice flour can create. Taste-wise, the homemade version—which, at its simplest, contains nothing but butter, onion, squash, stock, salt, and pepper—is bound to be an improvement over store-bought.
Texture is another story. And—spoiler alert—not a happy story.
Do a Google image search for "butternut squash soup," and about half of the results on the first page will show a thin, shiny, orangey liquid. Sometimes there's a spoon poised above the surface of the soup. One gets the impression that, were the spoon accidentally dropped, orange fluid would splatter to a four-foot radius around the bowl. In some of these pictures, someone has drizzled cream into the center of the soup in an attempt to jazz it up, but the soup is so watery that the dairy bleeds and, rather pathetically, sinks, along with any hope that this soup was actually going to be good.
Clearly a considerable portion of the soup-making population is watering down its butternut squash soup. This is not okay. Butternut squash soup should be the ultimate healthy winter meal: hearty, warming, comforting—and filling. A squash purée with the consistency of Gatorade is none of these things. It is a mockery and a sham and it gives credence to those who think homemade soup is a waste of time.
The solution, happily, is simple: Use less liquid. When you add stock to your soup pot, pour in just enough so that the solid ingredients float. Then stop and let the soup cook. If the liquid level starts getting low before all of the squash is soft, you can add a half cup more stock then. If, after you blend it, your purée is thick enough to support an iPad, stir in another splash. Point being: You will have many opportunities to add more stock. You will have zero opportunities to remove stock if you start with too much.
Do this one thing and you will be a good three-quarters of the way to an exceptional butternut squash soup. The other 25 percent? Ingredients and technique. In addition to the obvious squash and stock, you'll need at least one aromatic vegetable, the flavor-boosting category that includes onions, leeks, scallions, shallots, and garlic. I prefer leeks, whose velvety texture, once cooked, jibes nicely with the squash.
Apples also make a nice, albeit optional, addition. Their peak season coincides almost perfectly with that of butternut squash—and their sweet-tart flavor and fluffy texture keep the soup from being one-dimensionally squashy. And cinnamon is the ideal spice for butternut squash soup; like Christine McVie of Fleetwood Mac, it's appealingly sweet without being flashy or domineering.
Dairy, for the lactose-tolerant non-vegans among us, is mandatory. Anything with a little fat in it will do—cream, half-and-half, crème fraîche, sour cream, even cream cheese or goat cheese. But yogurt is best: It adds body without making your blood feel like it's coagulating with cholesterol as you eat, a quality particularly welcome in the days immediately following Thanksgiving.
As for the technique: Sauté chopped vegetables in fat, add liquid, cook until the vegetables are soft. The only tricky part is the last step: puréeing. It requires either an upright blender or an immersion blender. The latter (also known as a stick blender) is preferable; it lets you purée an entire batch of soup without risking third-degree burns and/or explosions. Persnickety types will tell you that an upright blender gives you a finer purée—and they're right. But this soup is so thick and rich that it hardly matters.
Or, at least, it should be.
Butternut Squash and Apple Soup
Yield: 6 to 8 servings
Time: About 45 minutes
2 tablespoons butter
2 tablespoons extra-virgin olive oil
2 leeks, white and light green parts only, chopped
¼ teaspoon ground nutmeg
2 teaspoons ground cinnamon
Salt and black pepper
3 medium apples, peeled, cored, and cut into large chunks
1 large butternut squash, peeled, seeded, and cut into small chunks
6 cups chicken or vegetable stock, or more as needed
One 7-ounce container Greek yogurt
1. Put the butter and oil in a large pot over medium-high heat. When the butter melts, add the leeks and cook, stirring occasionally, until soft and translucent, 5 to 7 minutes. Add the nutmeg and cinnamon along with some salt and pepper and stir for 30 seconds or so, then add the apples and squash and stir to coat them in the oil and spices.
2. Add the stock, turn the heat to high, cover, and bring to a boil. Reduce the heat to medium-low and simmer, adding more stock if necessary to keep the squash and apples covered with liquid. When the squash and apples are soft enough to be pierced easily with a fork, turn off the heat, add the yogurt, and purée with an immersion blender. Taste, add more salt if necessary, and serve hot, at room temperature, or cold.


Previously in You're Doing It Wrong:
Stuffing