How to Write 50,000 Words in a Single Month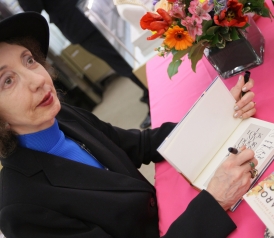 There's one week left in November, which means that a few hardy souls have seven more days to complete the National Novel Writing Month challenge—that is, to compose at least 50,000 words of a new work of fiction over the course of one calendar month.
If you've never attempted NaNoWriMo, it probably sounds like a thoroughly pointless project. Who could possibly produce a worthwhile piece of writing in such a short time? Well, as Chris Baty, the founder of NaNoWriMo, advises in his book No Plot? No Problem!: A Low-Stress, High-Velocity Guide to Writing a Novel, "There is no pressure on you to write a brilliant first draft. Because no one ever writes a brilliant first draft."
The tight, non-negotiable deadline and the challenging minimum word count are the secrets of NaNoWriMo's genius, because they focus the mind remarkably well. I speak as a successful NaNoWriMoer (I did it in August rather than November; the television is way too good at this time of year), despite having previously written nary a word of fiction since high school. The shaggy-dog tale that I ended up with is weird and perverse, but the writing experience was astonishingly fun. I consider it one of my greatest achievements, despite the intense strangeness of the finished product.
If you're deep in the throes of NaNoWriMo, however, fun may be the last thing you're experiencing. You may even be struggling with NaNoWriMo block. If so, allow me to offer a few words of advice.
In No Plot? No Problem! Baty recommends a few "cheap padding techniques" for one-month novelists who worry that they'll never reach the 50,000-word finish line. His strategies include giving a character a stutter (to expand "the girth of their dialogue"), temporary deafness ("necessitating that everything said to him or her be repeated"), and a fondness for quotation ("Give your protagonist a copy of Beowulf and an annoying habit of reading poetry out loud on their long commute to work").
I have some additional suggestions: amnesia (if one or more characters forgets everything that has happened in the narrative thus far, it's only polite to remind them—at length), flashbacks (either to events before the action of the novel began or just a couple of chapters back), recollections (of a character's earliest childhood memories or just about anything else apropos of nothing), lists (you don't have to stick to a character's favorite books, music, movies; why not list every friend they ever had?), and recipes (if someone is preparing a meal, don't stint on the details—how hot should that oven be?).
Readers, what are your manuscript-bulking tips?