The Adventures of Hergé, Creator of Tintin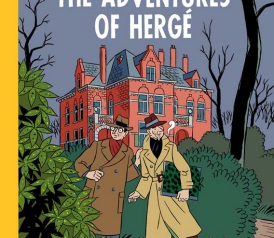 Steven Spielberg's The Adventures of Tintin will hit American screens next month. (The film is already showing in many other countries.) Based on the work of beloved Belgian cartoonist Hergé (whose given name was Georges Remi), it's a movie Spielberg has wanted to make since the early 1980s, after his first Indiana Jones film was compared by a French critic to the Tintin series. Hergé admired Spielberg as well, and the two planned to meet to discuss a possible film in 1983—but Hergé, 75 at the time, died before they could.
That's one of many episodes recounted in the newly translated The Adventures of Hergé, a life of the cartoonist written and illustrated in a style not unlike his own, out this month from Drawn & Quarterly. Hergé's own life was itself full of incident. Most dramatically, he was arrested four times in the aftermath of World War II: During the occupation of Belgium, he published his Tintin comics in a paper controlled by occupying forces, and so was considered a collaborator. (He has also been accused of anti-Semitism and racism.)
Advertisement

The first of the excerpted chapters below depicts one such arrest. The second depicts the chaotic work of adapting a Tintin comic for the screen—in 1960, with live actors. In the final chapter, Hergé prepares for the meeting with Spielberg that never happened.
The English translation is by Helge Dascher. Enjoy. -- David Haglund

TODAY IN SLATE
Politics
Talking White
Black people's disdain for "proper English" and academic achievement is a myth.
Operation Backbone
How White Boy Rick, a legendary Detroit cocaine dealer, helped the FBI uncover brazen police corruption.