Should I Watch Master of the Mix?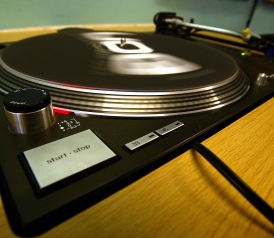 Master of the Mix is a reality competition that aims to crown America's best DJ. It airs on BET late on Saturday nights (the coveted midnight-12:30 a.m. slot). Season 2 premiered on Nov. 7.
You'll like it if you have a high tolerance for product placement.
That strange late-night time slot—most working DJs, surely the show's likeliest viewers, will be spinning then—may reflect the total integration of Smirnoff vodka. Not only do the judges and contestants pause the action to sip on cocktails, mixologist Jenny gets almost as much airtime as the turntablists. In Episode 2, the contestants were divided into two teams named for new Smirnoff flavors: Team Whipped Cream and Team Fluffed Marshmallow. And yet the product integration feels less outrageous than that may sound; after all, drinks and DJs usually share a symbiotic existence.
You won't like it if you are hoping to hear lots of dance tunes.

For a show about mixing, there sure is a lot of talking. In the second half-hour episode, we didn't see the DJs in action until the 19-minute mark. The producers seem convinced that viewers will be just as happy listening to judge Amber Rose as they would be listening to music.
You'll like it if you're hoping to pick up cool lingo.

In the premiere, which covered the audition process, one young hopeful bragged that he had been "rockin' the one-handed bandit, giving 'em a ride on my tears." (That's the tear that rhymes with where, by the way.)
You won't like it if you're hoping it'll teach you how to DJ.

In the early episodes, the contestants have had very little time to impress the judges with their skills—just two- or five-minute sets—so it's probably no surprise that they've focused on scratching and other tests of manual dexterity rather than building a mood or establishing a groove. Only one of the Season 2 contestants uses vinyl records, but so far, at least, there's been no explanation of how DJs mix the songs that are stored on their laptops.
If you're curious about the lives of the men and women behind the turntables, and you want to hear some expert opinion on the art of the mix, you'll probably learn more by chatting up a DJ the next time you're at a club. But it wouldn't hurt to set your DVR to record Master of the Mix while you're out.