Which American Eatery Is the Most Patriotic?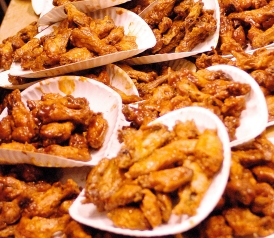 In honor of Veterans' Day, many American restaurant chains are offering special deals for both veterans and active servicemen. While there may be such a thing as free lunch for former members of the U.S. military today, not all deals are equally generous. Which American eatery is the most patriotic?
Not Hooters. Sure, veterans can choose from both boneless and traditional wings, but only after the purchase of a drink. At TGI Friday's, our former fighting men and women will have to purchase an entree before getting the second one free. UNO's deal only gives veterans 19.43 percent off food and (non-alcoholic) beverage purchases. (The UNO's offer did run this entire week—and was extended to veterans' companions as well.)
Other no-purchase-required offers include Subway sandwiches, Krispy Kreme donuts, and Tim Horton's donuts. Their offers are only available today, and require that veterans choose from a limited menu. (Tim Horton's is giving out donuts with star-shaped sprinkles only; Subway excludes their "premium" sandwiches.)
For many franchises, deals vary by location. Subway's offer isn't available in the Washington, D.C., area, for instance, and Famous Dave's Nebraska locations offer just 50 percent off meals—with a maximum discount of $8.
A more generous offer is provided by McCormick & Schmick's: Their free entrees, available to veterans on Sunday, typically run $20-$30 each. The restaurant will require military ID—and it recommends that card-carrying current and former military personnel (excluding reserves) make reservations in advance.
The most patriotic of American eateries? Possibly Golden Corral. Its Military Appreciation night is on Monday, November 14, allowing veterans to partake in other deals throughout this weekend. Golden Corral will provide a free dinner buffet, including a non-alcoholic beverage, to all active and non-active servicemen, including reserves—no ID required. While the restaurant may hope that non-military dining companions will pay full price, there's no purchase required to participate.
Bonus tip: A veteran seeking to maximize restaurant generosity this weekend should pick up a few donuts quickly, then dine-in at Chili's for a late lunch and at Applebee's for dinner. On Sunday, head to McCormick & Schmick's, then hit the Golden Corral on Monday. Note: This feat may be restricted to those living in North Carolina, where all those restaurants are plentiful.