Follow Friday: A TV Exec Who Talks Back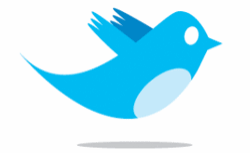 Twitter is both a blessing and a curse for television. On the plus side, it can turn a lonely couch-bound activity into an interactive social experience. It can also make a hermit like me feel better about my social life—how can it be uncool to stay home on weekends if so many smart people are tweeting from their sofas?
But the most interesting thing about Twitter for a TV fan is the way it breaks down barriers between us viewers and those who make TV happen. The writing rooms of shows like Happy Endings and The Good Wife and showrunners like Community's Dan Harmon and Bones' Hart Hanson use Twitter to offer glimpses into the process of creating a show. Further inside information is offered up by staffers at trade magazines like the The Hollywood Reporter and Variety.

My favorite inside-TV tweeter? Ted Linhart, aka @TedonTV, senior vice president of research at USA Network.
@TedonTV is a company man through and through, and he's prone to serving as a human clock, counting down the hours to new episodes of USA shows like Psych, Covert Affairs, and Burn Notice. He also retweets insightful fan responses such as: "BEST. EPISODE. OF #PSYCH. EVER." But what sets Linhart apart from other tweeting TV types is his willingness to answer questions.
These can be queries about USA shows—filming locations, schedules, etc.—or about television generally. He's especially informative about ratings (his day job involves "overseeing qualitative and quantitative research" for the USA and Cloo networks), but he'll also share his thoughts on syndication or his favorite books about television.
At first, I was reluctant to bother a network executive with my idle inquiries. But he's so quick to respond, it seems he genuinely enjoys talking television with strangers. Now, whenever a question pops into my mind, I'll fire off a tweet to @TedonTV. Unlike my friends, he actually knows what he's talking about.