This Picture Is Worth 20 Words: Herman Cain Hug Edition
Welcome back to Slate's weekly caption contest. Post your captions—20 words or fewer—in the comments section.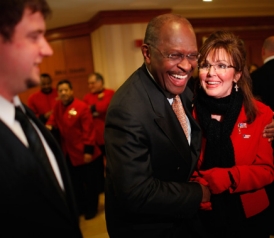 The winner: Kim Dechant Erb
What was I thinking? This costume is impossible to walk in.
4 out of 5 dentists do not recommend this.
Meerkat, nature's toothbrush.
Meerkats inspect a shaped pumpkin on October 27, 2011 at the zoo in Hanover, central Germany. Suited to the upcoming Halloween season, the animals' enclosure is decorated with the pumpkin and delights meerkats and visitors. (Jochen Luebke/AFP/Getty Images)