Dead Dads and Air Conditioning: Last Night's Community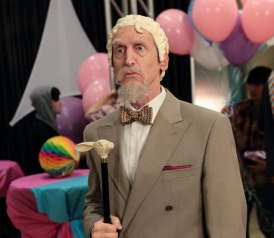 It was a very manly mix on Community last night. Men did what they do … with their fathers, their friends, their mentors, and their demons. The women, accordingly, knew their place: They harped on the men about their father issues.
It's been a weird year for Community so far. The premiere, which began with a big joyful musical number and a sparkling array of TV parodies, was the show at its best—until an episode called "Remedial Chaos Theory" came along, which set a new standard. The first few episodes contained the usual blizzards of pop-culture references: jabs at musicals, TV shows that do musical episodes, Cougartown, Downton Abbey, The Wire, goatees, Star Trek, Dr. Who, 2001… even TV shows that use hoary Spartacus references. But there have also been episodes, like tonight's, that are smart, deep, and funny—but don't effervesce.
The show, which follows a study group as its members negotiate the education-free curricula of undistinguished Greendale Community College, is a way for its creator, Dan Harmon, to work out his feelings not about humanity, society, or education—but TV. The seven central characters fight and bicker in a highly meta way that mostly crosses semiotic swords with TV's earlier groups of friends (like, say, Friends).

Combine that with the genuinely unattractive personalities and actions of some of the main characters and, at its best, Community is the mother of all anti-sitcoms.
Last night's episode was called "Advanced Gay." (You can see clips of it, and soon a full episode, here.) Chevy Chase as Pierce Hawthorne—unpleasant, prejudiced, and wealthy—finds himself torn between bigotry and greed when his family's meal ticket, a line of household wipes, become a gay lifestyle accoutrement. (What exactly they are used for shocks sheltered Shirley. Insert Santorum joke here.)
Ultimately, he does the right, capitalistic thing: He throws a dance party to celebrate gay love for Hawthorne Wipes. But then his domineering, rebarbative, and even more bigoted father—equal parts Colonel Sanders and T. Herman Zweibel—shows up.
Britta, unfocused and superficial as ever, has learned enough in the first few minutes of her psych class to become a high-volume expert on the "edible complex," as she calls it. Jeff, the amoral failed lawyer, has, it's been hinted in earlier episodes, a few father issues himself. Jeff's father isn't around, so he works his father isues out on Pierce's.
In the denouement, at an oddly celebratory funeral, we are invited to consider, as Aeschylus, Freud, or Groucho Marx might have put it, whether sometimes a patricide is just a patricide.
In the second storyline our manly subject is what worthy profession a man should devote himself to. It's the unexpected continuation of a Good Will Hunting–themed episode from the first season centering on Troy. In that one, we learned that Troy's secret gift isn't mathematics but plumbing. His mentor in this proud but modest profession reappeared last night—only to be bigfooted by a weightier re-appearance: that of John Goodman, as a vice dean who runs the powerful Air Conditioning Repair School Annex at Greendale.
He initiates Troy in some comically mysterious underground enlistment rituals, taking him to a secret room that is perfectly air conditioned. "You've heard of room temperature?" he asks Troy. "Yes." "This is the room."
It's a good line. But the show as a whole seemed almost deliberately flat. It did manage to craft quite a few jokes out of air conditioning. But the extended dreary arguments about who has what bad feelings about whose father did not add up to the ineffable 22-minutes of Community when it's really humming.