Jay-Z and Kanye: The Early Years
[T]hey've developed a reliable mentor-student relationship: Jay-Z carves out new territory for a rapper, then Mr. West tests its boundaries, often breaking through them. Still, when they rap together, Mr. West often willingly plays the junior member of the partnership, while Jay-Z is reluctant to sacrifice even an inch of his authority, even as Mr. West has become a peer and maybe more.
I can't improve on this assessment, but I'd like to point to a revelatory account of the early days of this mentor/apprentice relationship. It can be found at the end of Kanye's debut album, The College Dropout, in a track called "Last Call."
The song is Kanye's toast to Jay-Z's Roc-A-Fella Records for giving him the opportunity to jump from producing to rapping. As if to prove he was worthy of the label's support, it contains some of the album's most elaborate word play. "My money was thinner than Sean Paul's goatee hair," Kanye raps. "Now Jean Paul Gaultier cologne fills the air." That's a hell of a rhyme. Later in the track, a store clerk is impressed with Kanye's method of payment: "Oh my god, is that a black card?" she asks. "Why yes," he replies, "but I prefer the term African American Express." There's a playfulness, almost a silliness, here that you're less likely to see from the brooding artist of the last few years. One of the pleasures of returning to "Last Call" is reacquainting yourself with a Kanye who didn't yet feel he was being treated like Hitler. The Kanye of "Last Call" doesn't lack for confidence but he's charmingly surprised by his own success.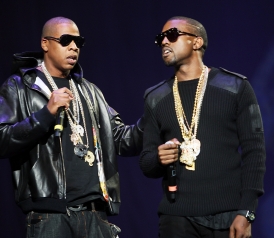 The song proper runs for about four minutes, but after Kanye finishes rapping, the beat continues for another eight minutes, and he proceeds to deliver an oral history of how he went from making beats for local acts in Chicago to producing for Jay-Z and making a record of his own. Here, too, we glimpse a humbler West: He recalls putting together his own Ikea bed and spending what little money he had to buy "a Pelle-Pelle off layaway"—a long way from the Margiela jackets of "Ni**ga's in Paris." There's also a detailed, candid account of how Kanye forged his production style; he admits that he bit the drums off Dr. Dre's "Xxplosive" to make the beat for Jay-Z's "This Can't Be Life." That beat led to Kanye's first meeting with Hova, which West describes with comic flair. Jay-Z has already laid down his verse by the time Kanye arrives at the studio, and plays it for him. Kanye doesn't much like it—he finds it too complicated and introspective—but he tells Jay "that shit tight." "What was I gonna tell him?" West asks with a laugh less sinister than the one that has since become his signature. The future king was then but a pretender.