The 5 Greatest Movies About the End of Summer
Writer-director David Robert Mitchell's debut feature The Myth of the American Sleepover, which opens in New York on Friday and on demand next week, follows four teenagers in a dreamy, timeless version of suburban Michigan as they spend the last night of summer partying, wandering the neighborhood, and chasing romance. (The film, which Roger Ebert called a "lovely, gentle and very true film", won the Special Jury Prize for best ensemble cast at SXSW.)
The end of summer is a sultry, heady, emotional time—which is why it makes such a good setting for films. Here, David Robert Mitchell shares his list of the five greatest movies set in that most hormonal of seasons.

William Holden and the always-stunning Kim Novak share a Labor Day weekend together in a small Kansas town. He's a drifter, a sad loser surviving on fading charms. She's a local beauty, waiting for something real. They fall in love during a daylong celebration—a picnic in honor of summer's end. When the holiday is over, and the film ends, we want them to be together. I like to believe that they are.
A beautiful, simple, and incredibly immersive film about teenagers spending their vacation on a Fire Island beach, famous for its disturbing portrait of youthful "gang mentality." I think it works best during its quieter, softer moments, which are all about awkward boys trying to find the courage and momentum to make a move on the girl they long for. Barbara Hershey is painfully pretty as the leader of the beach gang and the center of a fumbling threesome. Catherine Burns has a monologue you won't forget. Sadly, director Frank Perry's sand-covered time-capsule isn't on DVD or Blu-ray. It's like a memory from a summer long gone. A very special film that shouldn't disappear. It really shouldn't.
"I never had any friends later on like the ones I had when I was twelve."
"Jesus, does anyone?"
I saw this as a kid. I remember feeling sad for the four boys when their adventure was over. This film proves that kids can have nostalgia and sadness for the very moment that they're living in. I knew that childhood adventures, daylong walks through mysterious woods, and friendships-without-fail were fleeting things. We all know it, but this is such a wonderful film—and a conduit for personal reflection in the face of mortality, aging, and times long gone. Oh… and it makes me smile and laugh and remember that it's all ok, more or less, most of the time.
The setting is a beach resort. The humor comes from the carefully observed dance of vacationers intermixed with the comedic brilliance of a fumbling man named M. Hulot (played by the director and co-writer, Jacque Tati) . The pacing is calm. There are just as many tiny, beautiful moments as there are intricately hilarious ones. It feels like a reminder of a childhood holiday at a seaside resort—if you had been observant and noticed the lighthearted missteps of your fellow vacationers.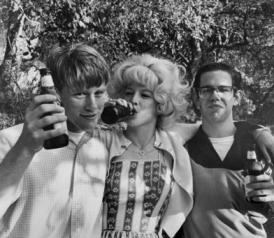 I love science fiction… I love Star Wars… but this is the best film that George Lucas has made—so far. American Graffiti is funny, sweet, and meaningful. I saw it when I was much younger, trying to decide if I was the kid who leaves home for something unknown or the one who stays behind. (Hint: I took the Richard Dreyfuss route.) In this film, we can see ourselves in the characters. We sense that there is some melancholy behind the classic rock tunes echoing across the open streets of this small California town. The characters are young and infinitely hopeful. We want them to stay that way. Of course, they can't, but neither can we.