A Short History of Pies-in-Your-Face
Pelting political opponents with baked goods has its own long and storied tradition. A 2000 New York Times essay dates the opening salvo of the "modern pie movement" to 1970, when Thomas King Forcade, the founder of High Times, threw a "cottage cheese pie" at Otto Larsen, head of the U.S. Commission on Obscenity and Pornography. (An article from the period notes that Forcade had "volunteered to testify at a hearing. He identified himself as a clergyman, sprinkled his testimony with expletives, then pulled a cream pie from a box and hurled it at [Larsen's face.]") The last high-profile victim in the '70s pieing trend was anti-gay singer Anita Bryant, who was pelted by Aron "Pieman" Kray at news conference in 1977.
"At least it's a fruit pie," Bryant quipped.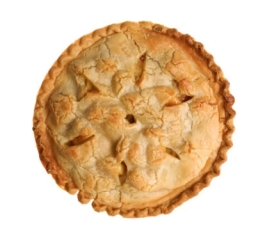 Bonus: What's the best kind of pie for hurling? In the late 1990s, British supermarket chain Tesco tested all its pie varieties for aerodynamics, crust dispersion, and "creamability." The winners: egg custard, lemon meringue, and anything with a fruit filling. For his part, Godin favors the "tarte classique," which is "filled with whipped cream and perhaps a little chocolate in soft sponge cake." According to their 2004 cookbook, the Biotic Baking Brigade uses vegan whipped cream (for "maximum sploosh effect") on paper plates (for safety) whenever possible. Earlier, the BBB learned that vegan pies tend to make bad projectiles, because without milk or eggs, they tend to soften and get drippy too quickly. ("The vegan ones don't hold together so well," a member told Mother Jones in 1999. "There have been emergencies when we've needed a pie immediately. In that case, we've usually gone to local stores. You know, we want to support community stores whenever possible.")
Or perhaps he was intrigued by the hair removal product's potential for pain. Besides tasting offensive, it also badly stings the eyes, as victim Craig Stammen, a pitcher for the Washington Nationals, reported. "It didn't ­hurt-hurt," though, Stammen said.
No such luck for Marlins player Chris Coghlan, one of many Major League Baseball players to engage in the sport's latest celebratory ritual: A shaving cream pie incident last summer landed him on the disabled list with a torn meniscus in his left knee. The irony: Coghlan was the tosser, not the target.