Emmy Nominations 2011: Ron Swanson Wuz Robbed!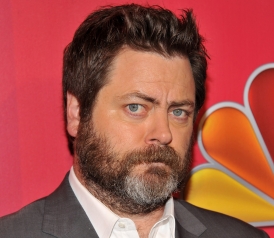 The nominees for the 63rd Annual Emmy Awards were announced today at 8:30 am ET, in a ceremony co-hosted by Fringe's Joshua Jackson and Mike & Molly's Melissa McCarthy—who, in a completely adorable moment, also got a surprise nomination for best lead actress in a comedy. Go Sookie!*

Otherwise, as usual, the big award categories looked pretty familiar. Alec Baldwin received his 11th nomination, Tina Fey her 19th. Nim Chimpsky could have predicted the best comedy series slate: Glee, Parks and Recreation, The Office, Modern Family, 30 Rock, and The Big Bang Theory.
The comedy categories did hold a few surprises. In the lead actor group, Louis C.K. (Louie) and Matt LeBlanc (Episodes) won spots over more hotly tipped favorites Joel McHale (Community) and Matthew Morrison (Glee). Morrison's co-star, Lea Michele, also failed to land a spot on the lead actress list. But Glee's Chris Colfer managed to wrest away one supporting actor nomination from the conquering men of Modern Family, who took four of the six slots in that group. The last went to Jon Cryer of Two and a Half Men; criminally, there was no love for Neil Patrick Harris as How I Met Your Mother's Barney Stinson or for Nick Offerman as Parks and Recreation's Ron Swanson. (Looking at this helps soothe the pain a bit.)
In the drama series category, AMC's poor, beleaguered procedural The Killing didn't make the cut, though HBO's hit Game of Thrones managed to overcome the Emmys' aversion to fantasy and receive a nomination. In the lead actress category, there was no Kyra Sedgwick for The Closer—despite the fact that she won last year—or Katey Segal for Sons of Anarchy. However, the lead men, and the supporting women, matched up exactly with the collective predictions of experts, editors, and users on Goldderby.com. The supporting men's list, though, was conspicuously free of Boardwalk Empire actors. (Note that Breaking Bad, which took home both men's acting awards last year, wasn't eligible this time around.)

Mad Men and Modern Family had the happiest morning, with the most total nominations in their categories (19 and 17, respectively).
The Primetime Emmys will be held on Sunday, September 18, and broadcast on Fox starting at 8 pm ET. Jane Lynch, a.k.a. Glee's Sue Sylvester, will host.
* Correction, July 14: This sentence originally read "Academy Awards."