What Exactly Does Jarobi White, the Mysterious Fourth Member of A Tribe Called Quest, Actually Do?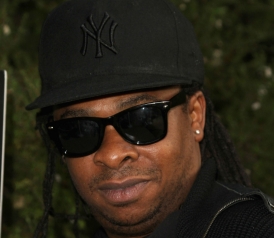 The About section on Jarobi White's Wordpress blog reads: "My name is Jarobi. I cook. I perform. 1/4 of A Tribe Called Quest. I am."
For a long time, that's about all the average fan knew about the fourth member of A Tribe Called Quest, the seminal hip-hop group that disbanded in 1998 and reunited in 2006 Q-Tip and Phife Dawg rapped, and Ali Shaheed Muhammad was the DJ and producer, but the exact nature of Jarobi's contributions have always been hazy. Those who hoped that Michael Rapaport's new documentary, Beats, Rhymes & Life: The Travels of a Tribe Called Quest, would crack the riddle of Jarobi will be disappointed: As Jonah Weiner notes in his review of the film for Slate, the boisterous performer's role, "beyond spiritual mascot, has always been unclear and remains so here."
"I always considered Jarobi a member of A Tribe Called Quest," Rapaport said over the phone. "If you grew up loving Tribe Called Quest, he was always a part of it."
In a separate phone interview, Jarobi told me that he was around 11 years old when he met Phife around the neighborhood in St. Albans, Queens; he would beatbox while Phife rapped. After Phife introduced Jarobi to his best friend, Q-Tip, the three began making demos together. The official Tribe foursome was completed a few years later, when Q-Tip met Ali Shaheed Muhammad in high school.
If you listen to Tribe's early music, you'll hear Jarobi's voice, though Phife Dawg's and Q-Tip's remain front and center. At the end of the opening track of Tribe's 1990 debut album, Jarobi is the one who introduces the members of the group, calling himself "the mystic man." He's in the group's early videos too, including "I Left My Wallet in El Segundo," standing alongside the other group members and bobbing his head.
Jarobi describes himself as "a tour guide" on the group's first official album, "providing the vibe backbone" with intros and outros. During the recording of the next album, 1991's The Low End Theory, Jarobi ventured into Q-Tip and Phife's territory and contributed some actual verses. But different versions of those songs were used for the final album, and Jarobi left the group shortly after. (Both he and Rapaport say there was no hard feelings around the decision to scrap his verses.)
Since then, the group has maintained what Rapaport calls a "revolving door policy" with Jarobi. He'd continue to spend time in the studio, providing the jokes that were part of the group's writing process.
"You come in [to the studio]. You might have had a bad today. Some lady might have pushed you on the train," Jarobi explains. "I walk in the studio and I'm bringing all my rambunctious silly stupid jokes and now we're all laughing."
I asked Jarobi what he thought Q-Tip meant when, in Rapaport's film, he called him "the spirit of A Tribe Called Quest."
"What the music is, I guess that's what my personality is," he said. "I'm free-spirited, witty, biting sometimes."
Despite his sunny personality, people have said some dark things about Jarobi since he officially left the group. Rapaport rattled off the rumors: "He's on Rikers Island. He's on crack. He's a drug dealer. He's in a mental institution."
"It gets to the point where people are kind of mean," Jarobi said. "I'm like, 'Did I do something to you? You're mad at me because I'm involved in your favorite group.'"
In fact, Jarobi's real post-Tribe career has been much less controversial, but still surprising: He went to cooking school. (A career choice that might have been foreshadowed in "Ham 'N' Eggs," a track on Tribe's first album. You hear Jarobi saying he won't eat the song's titular meal, and the group explains why: It's high in cholesterol.) He's worked as a cook in Atlanta and South Carolina, and he describes his cooking as both "just really awesome" and Asian fusion. His blog features recipes for bread pudding and crab macaroni and cheese.
"I keep telling him we need to do a goddamned reality show," says Rapaport.
Jarobi is way ahead of Rapaport, with plans to open a restaurant in the near future. "And a cooking show as well," he adds, without sharing many details. He's evasive with the details of the restaurant too. It's coming "at the top of next year." It will be "north of the Mason-Dixon." And it will be in a major city, but not New York.
Before I hang up, I ask Jarobi if he wants to say anything else.
"I'm Jarobi. I'm a Cancer. Enjoy life."