First Review of the Final Harry Potter Film: "Better than the Book"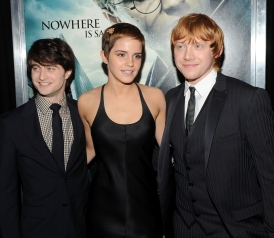 Here's the money quote from Philip Womack's write-up in The Telegraph:
This is monumental cinema, awash with gorgeous tones, and carrying an ultimate message that will resonate with every viewer, young or old: there is darkness in all of us, but we can overcome it.
Rowling devotees, though, are bound to be making like the Shrieking Shack over this diss:

Perhaps the greatest triumph of this final film is its ability to overcome the deficiencies of J K Rowling's writing. In the last Harry Potter volume, she failed singularly to muster the epic feel needed; as a result, on the page, the concluding battle at Hogwarts was a damp squib.
But Yates here transmutes it into a genuinely terrifying spectacle, as bloodied students fight desperately against a horde of screaming black-robed Death Eaters.
Womack notes that HPDH:2 includes what is "surely the most beautiful and important moment in the whole series," a scene in which young Snape makes a flower bloom for Lily Evans, the future Lily Potter. Cue tears!