"The Wire's" McNulty Stars in This Summer's "Mad Men"
It just doesn't feel like summer without new Mad Men episodes, but the BBC America is trying its best to fill the period-costume, vintage-cocktail, retro-office-and sexual-politics-shaped hole in our hearts with its new show The Hour, which premieres August 17.
The six-part series takes place in a broadcast newsroom in the 1950s, with the Suez crisis as the historical backdrop. UK press reports have been drawing the Mad Men comparisons for months now—as the Daily Mail notes, besides the good looking actors and clothes and the clever scripts, both shows have a similar theme: "as Draper's ad agency drives change in America, so The Hour has a set of sharp young journalists rewriting the news as Britain emerges from austerity."
The first trailer went live just before the holiday weekend; you can judge for yourself whether the parallels hold up.
The chintzy color-block graphics in the trailer make me a little wary, but these press stills are far more promising. And I'd be watching for the cast alone: Not only is this show going to give us a romantic triangle involving Dominic West (The Wire's McNulty), Romola Garai (Atonement), and Ben Whishaw (Bright Star), but we also get the ever-wonderful Juliet Stevenson (Truly, Madly, Deeply; Bend it Like Beckham). I'd listen to her read newsreels about the Suez crisis for six hours straight.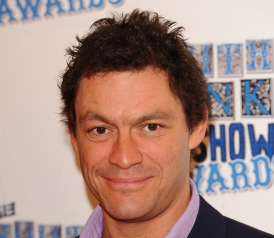 The creators of The Hour seem to be pushing back on the Mad Men comparisons even as they invite them; one producer notes that there's a "huge thriller story" running through the show, and that The Hour will be "less glossy, less shiny" than the beloved AMC show. ("If you look closely at Mad Men you won't see any human detritus, such as snippets of paper, broken pencils or old sandwiches," production designer Eve Stewart said. "You won't see a dirty ashtray. The British seem much happier to have all of this shown.")
Romola Garai, meanwhile, echoes critics like Daniel Mendelsohn and Mark Greif, who are wary of all that period seductiveness: "I get nonplussed by all the Fifties retro-revival aesthetic," the actress told the London Evening Standard. "Would we really want to be in our pinnies in our kitchen weeping? I find the kitchen, housewifey aesthetic repugnant."