R. Kelly's Log Cabin: Buy It Now For Just $3.5 Million!
R. Kelly's 2008 child pornography trial featured a defense attorney with a Wayans brothers fixation , a key witness attired in a Hypercolor suit , and a CGI montage of headless bodies having sex . At the center of this hurricane of weirdness was a sex tape filmed by Kelly in his one-time residence. "The action takes place in what the prosecution says is the basement of Kelly's former home, a room that looks a lot like a log cabin," I wrote back in May 2008. "[T]here is a handful of tall, green potted plants, and the walls appear to be fashioned from gigantic felled trees. No longer will I have to wonder what an Abe Lincoln sex tape might have looked like."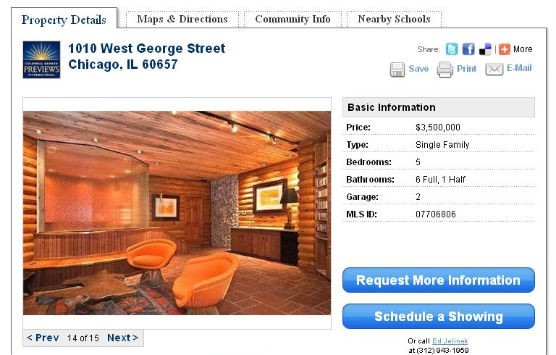 While the house's Coldwell Banker listing doesn't mention its famous former owner, the sex tape's infamous setting is listed as an amenity — potential purchasers are invited to "[r]elax in the full sauna area with knotty-pine walls." Other perks include five bedrooms and six full bathrooms, an indoor pool, a "1600 gallon aquarium wall," and "a nearly $7,000 shower head." Gourmands will also be enticed by the opportunity to double up with "double ovens and separate refrigerator and freezers."
There is one thing missing from the listing: Kelly's basketball court . The Looney Tunes-themed gym — the site of another alleged sex act — has seemingly been dismantled. Last year, A.V. Club Chicago reported that the current owner was selling "many items from old R. Kelly house" on Craigslist. Among the items for sale: "a bar table emblazoned with Looney Tunes characters hanging out with, uh, Jessica Rabbit, and a glass-backboard basketball hoop."
Screengrab from coldwellbankeronline.com.