Slate's Culture Blog
How We Are Your Friends and Other August Flops Were Maimed by Bad Marketing
This article originally appeared in New York magazine.
In 2006, the song "We Are Your Friends"—a remix of "Never Be Alone," by the British band Simian, credited to Justice vs Simian—won the award for best video at the MTV Europe Music Awards. As members of Justice vs Simian went to collect their awards, Kanye West burst onto the stage to interrupt them, claiming that he'd been told he would win for "Touch the Sky" and saying he'd had a little "sippy sippy" beforehand. Fast-forward nearly a decade later. Kanye is smoking prior to awards shows now, and "We Are Your Friends" is in headlines again, but this time for a very different reason: The song has lent its name to one of the worst-debuting films of all time.
We Are Your Friends, Zac Efron's moody trip into the world of DJ-bro euphoria and dudes wearing headphones around their necks, opened to $1.8 million in 2,333 theaters—the worst opening for a 2,000-plus-theater live-action release since 1982, according to Box Office Mojo. That per-theater average of $772 is worse than The Adventures of Pluto Nash. It's worse than From Justin to Kelly. It's less than half of what Mortdecaidid on its first weekend earlier this year. It's very, very bad, and it likely means that we'll be seeing less of a few things going forward: movies about DJs, movies starring Zac Efron, movies named after French dance remixes, etc.
The poor opening is also in keeping with a pattern that's spanned the month of August. The weekend of August 8, Meryl Streep's Ricki and the Flash opened to $6.6 million in 1,603 theaters—on target with estimates, but Streep's lowest-opening wide release since Lions for Lambs in 2007. Two weeks later, Jesse Eisenberg and Kristen Stewart's American Ultrabombed harder, taking in $5.6 million from 2,778 theaters. American Ultra's rough start sent its screenwriter, Max Landis, on a Twitter rant that led him to a conclusion folks have been batting around for years now, ever since the onslaught of superhero movies and franchise installations began in earnest: "big level original ideas don't $."
Although this is true in a very first-look sense—the highest-grossing original live-action release of 2015 is San Andreas, at No. 13, and San Andreas doesn't scream "original" it also overshadows a larger trend. The problem with all three of these movies is that potential moviegoers didn't understand what they were. The ads conveyed little information about the central idea, much less a sense of what kind of tone, genre, or atmosphere could be expected. None of the three had solid enough reviews to lend them a prestige feeling, meaning tone, genre, and atmosphere should've been their stock in trade. In a time when concepts and franchises, not actors, are becoming the primary determinant of a movie's success, these three movies highlighted their stars and little else. The marketing failed them.
When You Add Subtle GIFs to Iconic Book Covers, the Result Is Kind of Magic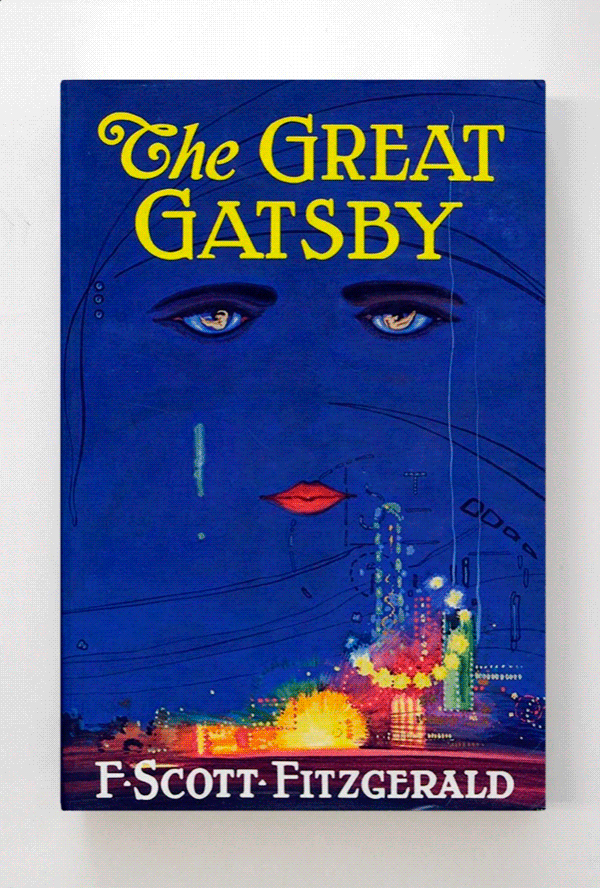 The famous 1925 Great Gatsby cover art designed by Francis Cugat—those sultry eyes suspended in a midnight blue sky—is powerful on its own. But when, upon closer inspection, you see those eyes blink slowly, revealing their long lashes? It's kind of magic.
The artist Javier Jensen has taken some of the most iconic covers in literary history and added subtle GIFs—so subtle that you have to linger on the image before you see what's different. From the tiny whale flicking its tail across the cover of Moby Dick to the swaying flowers on Le Petit Prince, the effect is pretty mesmerizing.

Eating Adventurously Abroad Leads You to Some Amazing Dishes—Like This Japanese Cabbage Pancake
This post originally appeared on Food52.
A language barrier —especially one that's difficult to traverse using Google Translate on your phone under the table—has many benefits, but my favorite is that it forces an adventurous palate. If you cannot confidently ask for directions to the bathroom, it's likely that you will not be able to identify every ingredient in your dinner either. What is this sauce made of? There is just no knowing.
And despite the initial distress this causes the hyper-curious and menu-micromanaging among us (hello, speaking), it ends up being pretty lovely. A kind of peace comes over you once you take a vow to cluelessly put whatever ends up on your table into your mouth; you are at a restaurant, and restaurant people know what they are doing. Trust that you are in good hands. Eat the brown stuff, whatever it may be.
I had okonomiyaki for the first time at the tail end of a trip to Japan, by which point my family and I had given ourselves over to the Foreign Country Food Gods. We did not regret this: Everything was good, salty, fishy, pickled, brightly colored, composed of vegetables I couldn't name and meat I wasn't sure I wanted but that I enjoyed nonetheless.
Sesame Street Made a Funny, Kid-Friendly Spoof of When Harry Met Sally
It's a classic odd-couple scenario: She's polite, patient, and composed, and he's … furry, ravenous, and obsessed with cookies. In Sesame Street's typically adorable parody of When Harry Met Sally (titled "When Cookie Met Sally"), Cookie Monster has to learn how to wait his turn after he tries to cut in front of the wrong woman in line at the delicatessen.
As always, the folks at Sesame Street have neutralized the adult themes of their source material, even managing to make the lead-up to "I'll have what they're having" sound innocent. And props go to the stylist who perfectly recreated not one but two of Meg Ryan's 1980s hairstyles on her Muppet counterpart.
The Director of Diary of a Teenage Girl on Underage Sex Scenes and Getting That R Rating
When watching The Diary of a Teenage Girl, it's easy to be struck by how different the film feels from pretty much every other cinematic account of female adolescence and sexuality. Fifteen-year-old Minnie (played by Bel Powley, who was 21 when she was cast in the film) lives in 1970s San Francisco with her sister Gretel and neglectful, free-wheeling mother Charlotte (Kristen Wiig). She's obsessed with the idea of sex and begins an affair with her mother's boyfriend, Monroe (Alexander Skarsgård). But it's not the plot that feels so revelatory—it's the way in which its young female protagonist is given agency: As Slate's Laura Miller writes, "When other films … have dealt with similar relationships, we're meant to understand the girl as used, motivated by emotional rather than sexual hunger. Minnie, on the other hand, feels pleasure and wants more of it."
I spoke with writer-director Marielle Heller, who adapted Phoebe Gloeckner's graphic novel of the same name for the screen about what drew her to Minnie's story, how society views the sexuality of young girls, and dealing with censors.
You adapted and starred in a stage version of Gloeckner's graphic novel for several years, and then went on to make the film adaptation. What is it about the story that has compelled you to work on the same project for such a long period of time?
It was really that I fell in love with this character—I fell in love with Minnie. I found her to be this teenage heroine that I had been seeking. It wasn't one thing at all but it was really her voice and when I read Phoebe's book it was such a clear voice of a really curious, honest girl who says everything we think but she doesn't have shame about exploring what she's really thinking.
How the Tiny Graywolf Press Became a Big Player in Book Publishing
This article originally appeared in New York magazine.
Before she won multiple awards and wrote one of the Times Book Review's top-ten books of 2014, the young poet Eula Biss tried to sell a book of essays to major publishing houses. "They were looking to push her into a more polemical voice," says her literary agent Matt McGowan. Biss wouldn't change her diffident, lyrical approach, and nothing came of it. Then she won a publication prize from Graywolf Press, a nonprofit outfit in St. Paul, Minnesota. After the resulting book, Notes From No Man's Land, won a National Book Critics Circle Award, publishers were the ones doing the courting. "I could have easily sold On Immunity for more money," says McGowan of Biss's follow-up. Instead, "I made Graywolf do a little song and dance to make sure they were going to make this big." They did, and Biss's study of vaccination merited wide acclaim, strong sales, and another call from a commercial house—this time offering six figures for the paperback. McGowan declined: "Why change a winning team?"
Graywolf has been winning for a while. Over the past few years, as publishing conglomerates merged, restructured, and grappled with Amazon, a midwestern press snuck in and found a genuinely new way forward for nonfiction. Leslie Jamison's The Empathy Exams entered the Times best-seller list at No. 11, while Claudia Rankine's Citizen, a half-versified meditation on racism, stormed post-Ferguson America. Each has sold more than 60,000 copies, putting them in Graywolf's all-time top five. Citizen just went back to press for a tenth time, putting it close to having 100,000 copies in print. That hardly puts Graywolf in league with Penguin Random House, but neither is it just a scrappy little press punching above its weight. It's a scrappy little press that harnessed and to some extent generated a revolution in nonfiction, turning the previously unprepossessing genre of the "lyric essay" into a major cultural force.
The term lyric essay was popularized in the '90s by the writer John D'Agata (a Graywolf author) to describe a hybrid form of nonfiction that accommodates verse, memoir, and criticism. But its origins go back at least as far as Susan Sontag and Joan Didion, journalist-critics whose work is magnetically personal. Its present-day progeny is more diverse and more direct, answering to a very modern hunger for well-worded social arguments rooted in identity and experience. It's a rapidly expanding niche, where Ta-Nehisi Coates and Roxane Gay can turn painful confessions into powerful exhortations while—in a different mode—Karl Ove Knausgaard and Sheila Heti can make universal claims out of private stories. On this shifting ground, Graywolf's poet-critics are punching above every weight class.
The publisher's very good 2014 wasn't a fluke but a culmination (and its lyric-essay run continues with this year's The Argonauts, Maggie Nelson's deconstruction of both gender and genre). Publishing just over 30 books a year, Graywolf has had authors win four NBCC awards, a National Book Award, two Pulitzers, and a Nobel Prize — all in the last six years. This year, it will exceed $2 million in sales for the first time. No other independent press, never mind a 41-year-old nonprofit, has come so far so fast. It didn't happen by accident.
"I think of success as being able to say yes to something that doesn't necessarily look like a commercial winner," says Fiona McCrae, Graywolf's publisher since 1994, over yogurt and decaf on one of her monthly visits to New York. "Knowing something is good and having to say no, that seems to me the bigger failure." An affably owlish Brit, McCrae started out in London's legendary literary Faber & Faber before transferring to its small American spinoff in Boston. Three years later, she heard that Graywolf's founder was resigning.