Slate's Culture Blog
Spring, Summer, Fall, Winter: See Four Seasonal Google Doodle GIFs from Eleanor Davis
If you saw Sunday's adorable Google Doodle GIF celebrating the first day of winter, you might have thought the Doodle's colorful, playful style seemed familiar. That's because this is the fourth of cartoonist Eleanor Davis' series of Doodles celebrating the four seasons, which ran throughout 2014. (The summer Doodle didn't run in the Northern Hemisphere.) Davis shared all four with us:


Davis sent us a bunch of her sketches for the Doodle. "Google I had so many good ideas for you," she tweeted. "They did not go for any of my ideas where the OOs were tits."
Advertisement

It really seems like the process was completely fun: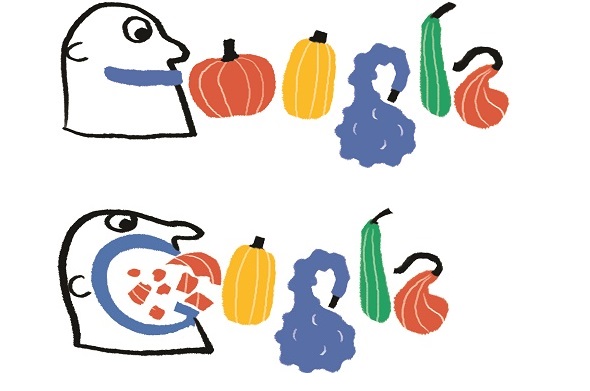 ...despite the fact that Google wasn't as into facial hair as she was:
"Haha how about a bunch of straitlaced people get hot & get naked & are secretly covered in tattoos spelling GOOGLE?"
Thanks to Eleanor Davis for letting us reprint these. For goodness' sake, order her fantastic book, How to Be Happy!
Did the Finale of The Affair Save the Series or Ruin It for Good? Two Perspectives.
Part 1: Sharan
I like to think of The Affair, Showtime's he-said-she-said whodunit set in Montauk and Brooklyn, as the guilty pleasure of prestige television—except that the show seems to try as hard as it can to avoid being pleasurable. The pacing can be ponderous, the writing can be self-serious, and the Rashomon-like storytelling often serves no other purpose than to double an episode's running time. But Sunday's season finale was invigorating television, and its first five or so minutes marked a series-saving shift in tone.
Mike Myers Returns as Dr. Evil to Mock North Korea and the Sony Hacks
SNL's last episode of 2014, hosted by Amy Adams, yielded plenty of comic delights, but perhaps its best moment was the very first sketch.
In the episode's cold open, Mike Myers reprised his beloved Dr. Evil character, the finger-gnawing, kitten-petting villain from the Austin Powers movies. The occasion? North Korea's alleged hack of Sony, which is giving "evil organizations a bad name." Myers also works in some funny self-deprecation, noting that if North Korea really wants "to put a bomb in a theater, do what I did—put in The Love Guru."
Watch SNL's Brilliant, Christmas-Themed Parody of Serial
Serial, the historically popular true crime podcast, ended its first season earlier this week. Now we have the inevitable SNL parody, in which Cecily Strong impeccably plays host Sarah Koenig.
The parody investigates the story of Kris Kringle, an elf who allegedly leaves presents in peoples' homes, and we get smart riffs on all of Serial's signature traits: Sarah Koenig's "introspective, chatty, sometimes brazenly naïve" manner; Adnan's endearing, constantly equivocating phone calls; and, most importantly, Nick Thorburn's catchy soundtrack.
Nicki Minaj Dropped a Three-Act, Unusually Candid Short Film for The Pinkprint
The Pinkprint, Nicki Minaj's much-delayed new album, was finally released earlier this week. It was worth the wait: track by track, the record is a stellar, "unexpectedly moody" triumph, with Minaj threading her usual bluster with moving strands of confessional storytelling. In keeping with this newfound candor, she's released a short film that uses four Pinkprint songs—"All Things Go," "The Crying Game," "I Lied," and "Grand Piano"—to render some of the record's main themes.
If You Liked Thomas Pynchon's Inherent Vice, Will You Like Paul Thomas Anderson's?
To read Thomas Pynchon's Inherent Vice is to trip through a convoluted, psychedelic detective mystery, where one minute things seem clear and the next the facts have vanished in a foggy, pot-infused haze. The 2009 novel, set in fictional Gordita Beach, Calif., follows stoner P.I. Larry "Doc" Sportello as he becomes entangled in the bizarre case of a missing billionaire. As with Raymond Chandler's pulp classic The Big Sleep, Inherent Vice isn't always easy to follow—it's more concerned with characterization and mood than it is with plot.