Eight Great U.S. Open Tennis Moments That Don't Involve a Ball
Throughout the next couple of weeks, photographers will provide incredible action imagery from the U.S. Open. The famed tennis tournament is the final of the four annual Grand Slam events; a player must win all four to capture the Grand Slam title, the greatest achievement in tennis. The U.S. Open has been host to many legendary moments: It's the place where Martina Navratilova defected from her native Czechoslovakia and where Chris Evert, Andre Agassi, and Andy Roddick all played their final matches. It's where Venus Williams made a name for herself in 1997 and Serena Williams cemented the family name two years later by winning the tournament. The great sports photographers look for action on the court, but they also look for the moments that happen in between points or after the match. Below are eight examples of some memorable moments in U.S. Open history.
In 1978 photographer June Harrison was working on a book with tennis writer Pete Bodo. The U.S. Open would be their last stop on tour that year, and Harrison went out to photograph Billie Jean King during her mixed doubles match with partner Ray Ruffels. Harrison happened to catch King immediately after one of their early victories. "She walked towards me and was just 2 feet away, and I had a 200 mm lens right on her face," Harrison said of her most famous image that would eventually appear in American Express ads. "The joy, relief, and satisfaction were radiant. She threw her head back and savored the moment with her eyes closed."
Rod Laver had already won the Grand Slam title once in 1962. In 1969 Laver entered the U.S. Open having won the previous three Grand Slam tournaments; Laver battled fellow Australian Tony Roche to capture an unprecedented second Grand Slam title. At the time, Russ Adams was in the early stages of photographing professional tennis and was friends with many of the players.
Advertisement

"I saw Rod start to run, and I figured he was going over the net even though he had told me he never jumps the net because he was injured doing that as a youngster," Adams said. "It made no difference whether he did or not because he was going very fast, and either way would make a good photograph. I had a wide-angle lens, so I was able to show the scoreboard because I felt that was important to the photo."
Bjorn Borg never won the U.S. Open and famously walked off the court before the trophy ceremony after losing the 1981 final to John McEnroe and essentially retiring from the sport he had dominated. Michael Cole started covering the U.S. Open in 1981 and was on court before the Borg–McEnroe final. "I had a 16 mm fisheye on my Nikon, and I removed the prism from the top of the camera and dropped it in one of my photo vest pockets so I could see what I was taking without actually lying on the court to get this angle" Cole said.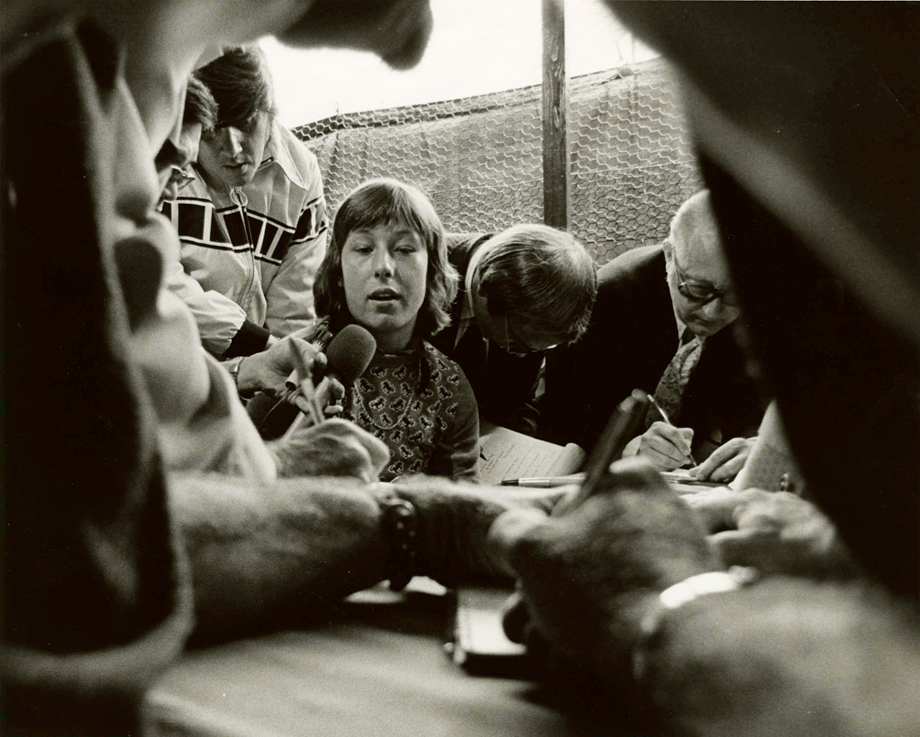 In 1975, 18-year-old Martina Navratilova reached the U.S. Open semifinal against her greatest rival, Chris Evert. The more successful Navratilova became, the more the Communist regime in her native Czechoslovakia was making life difficult for her. Although she feared she might never see her family again, she decided after losing the match to seek political asylum in the United States. "I was walking toward the club house at Forest Hills when I met Martina and a girl from Virginia Slims," Adams recalled about that day. "They informed me that there was going to be a press conference with an announcement. It was held in a very small area beneath the stands. Everyone was standing around [Navratilova] asking questions. I got down on my knees between two reporters who gave me a place to shoot through the opening."
In 1968, Arthur Ashe not only won the first U.S. Open of the open era, which allowed both professionals and amateurs to compete; he was also the first black man to win the U.S. Open title. Adams described how he got the shot:
When he was to receive the trophy, he asked for his father to join him on the stand. The rules were that no photographer could be on the grass, but an exception was being made for New York press only. Since I was from Boston, I did not qualify, so I took it from the photographers' normal position. I was high enough to shoot over their heads, and as the presentation proceeded, Arthur put his arm around his dad, and I noticed a tear rolling down his father's cheek. There were only 19 photographers on the court, as compared to today—over 90 photographers for the presentations.
Serena Williams has won 16 Grand Slam tournaments (four at the U.S. Open). She's known for an explosive game and for some explosive moments on court, especially at the U.S. Open, where she famously lost on a penalty point during her 2009 semifinal against Kim Clijsters. During the 2004 U.S. Open quarterfinal against Jennifer Capriati, a very obvious winning point by Williams was overruled by the chair (replays showed the ball was clearly in), setting up a break point for Capriati early in the final set and prompting Williams to explode. Many believe this was the impetus for instant replay now used at the major tournaments. "It's the kind of shot that (like anyone else, I guess), I'm always waiting for and wanting to get, and when this one came up, I knew I had a nice picture right away—you always know," Cole said.

One of the only people not excited about Venus Williams' 1997 U.S. Open debut and subsequent run to the final was her semifinal opponent, the temperamental veteran Irina Spîrlea. During a changeover in the second set, Spîrlea bumped into Williams while changing sides and later said about the young American, "She thinks she's the fucking Venus Williams." Mike Baz first started shooting the U.S. Open in 1984 and was sitting behind Spîrlea's chair during the match when she "flipped the bird" to the crowd. "Mine was apparently the only camera pointed at her when she made the gesture," Baz said.
The U.S. Open has been played on three surfaces: grass, clay, and hard courts. Jimmy Connors is the only player to claim a title on each. Photographer Melchior DiGiacomo is also one of a select group of photographers who have documented the U.S. Open's surface changes. "In those days, we could get close to the players," DiGiacomo said about the shot of Connors, taken circa 1975. "I'm sitting on the court a few feet away from him. Notice the hardwood chair and the young girl serving like a waitress in a restaurant. How different it is compared to today, when the players have a dietitian or trainer mixing drinks with powdered electrolytes."
TODAY IN SLATE
Medical Examiner
Here's Where We Stand With Ebola
Even experienced international disaster responders are shocked at how bad it's gotten.