| 
Posted Tuesday, Oct. 30, 2012, at 9:51 AM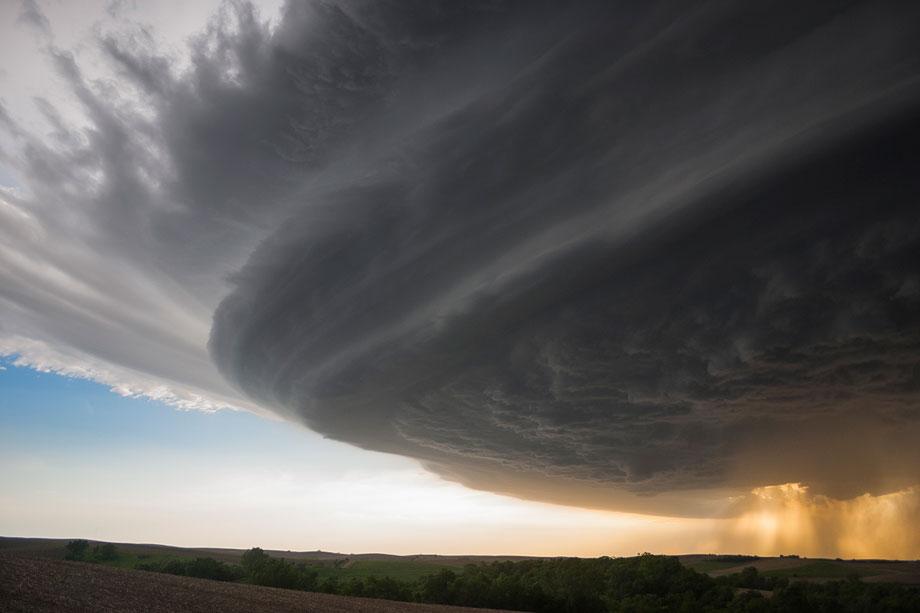 A supercell moves across northeast Nebraska, May 28, 2004.
Mike Hollingshead.

Mike Hollingshead is modest. On his website, he describes himself as "just a guy that liked storms as a kid then started chasing them in 1999."
With Hurricane Sandy dominating the news, you might think Hollingshead would have his camera ready. But he isn't—hurricanes aren't his type.

"I'm not a hurricane chaser," begins Hollingshead. "I would be if there was more image payoff with them, but they are largely just wind and rain and the biggest problem with 'canes [from a photographic perspective] is so often they can weaken right before coming onshore."
Just because hurricanes aren't his thing doesn't mean you won't find his striking imagines being misrepresented in your Twitter feed.
A supercell storm during twilight nears a York, Neb., truck stop on I80 as it spits out lightning, June 17, 2009.
Mike Hollingshead.
A supercell spins and produces lightning over western Oklahoma, March 30, 2008.
Mike Hollingshead.
A severe storm races in southwest Nebraska, June 10, 2006
Mike Hollingshead.
A shelf cloud moves over a storm chaser, producing a "whale's mouth" in southeast Nebraska, Aug. 9, 2009.
Mike Hollingshead.
"I've had a huge problem with certain images being circulated as being from Katrina and other places," Hollingshead said. " Someone a couple of years ago Photoshopped one of them with the Statue of Liberty, [and this week,] everyone and their dog is starting to spread that image around as being from Sandy."
Hollingshead generally sticks to shooting thunderstorms, lighting storms, and tornadoes. And then there is his favorite: supercells, which produce the majority of severe weather events, including tornadoes.
Hollingshead drives roughly 20,000 miles a year chasing storms from Texas to North Dakota, Colorado, and Indiana. The rush he gets shooting storms is hard to describe.
"It's like that kid the night before Christmas. I often can't get to sleep before good-looking chase days," says Hollingshead. "Just up late at night looking at the models and data and half-giddy when trying to get to sleep. I'm seldom rested during chase days."
"You hedge your bets you'll be OK. A lot of the excitement and amazing feelings come right after a close tornado intercept," Hollingshead says. "But some crazy storms (like the one below) aren't moving much and leave you completely amazed for a good duration."
A very intense high-precipitation supercell storm moves south in the Nebraska Sand Hills, south of Valentine, July 13, 2009.
Mike Hollingshead.
A shelf cloud moves over the countryside near Valparaiso, Neb.
Mike Hollingshead.
Hollingshead's passion for storms has paid off. Last month, National Geographic ran one of his tornado shots on the cover (below).
A tornado from a tornadic supercell approaches west of York, Neb., on June 20, 2011.
Mike Hollingshead.