Slaying the Zombie Ideas of Climate Change Denial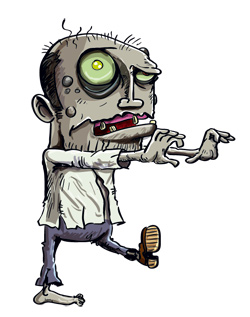 As someone who speaks out against those who deny climate change—again and again and again and again—I knew exactly what Marshall Shepherd, the 2013 president of the American Meteorological Society, meant the moment he talked about having to slay the "zombie theories of climate science."
The only way to slay these undead specters is to keep hammering them, repeating the facts, getting the word out there, and making the message palatable to the folks who may not have all the information they need to make an informed decision on global warming.

Tied to this is the idea that we can't be certain what the future holds. Climate models aren't perfect, so we can't be 100 percent sure how much the world is warming.
We need to be doing something about this, and now. We need to be investigating nonfossil fuel energy sources far more, really leaning in on finding more efficient uses of the fossil fuels we do have to use, and legislating ways of making sure there are incentives for people and companies to do so.
But instead we have to waste our time fighting the horde of zombie denials and trying to be heard above the well-funded and very loud groups who rely on distraction and false doubt to spread their viral ideas. This is the zombie apocalypse, and, unfortunately, it's all too real.