A lot of news has bubbled up about global warming over the past few days, and devoting a post to each one would be a) carpal tunnel syndrome-inducing, and 2) depressing as hell. So in the manner of ripping off a Band-aid quickly, here is a torrent of global warming info, and as usual it's about reality and the foes thereof.
First up: A clarification. I recently posted that 97% of global warming papers that take a stance on its cause say it's human-induced. This has generated the usual amount of hot air (ha! haha!) from the deniers, including the gem that consensus doesn't equal reality. "Scientists once thought the Earth was flat!" they cry.
That's actually not quite true; ancient Greek scientists knew the Earth was round, and even how big it was. And who do you think replaces older, less accurate information with better understanding? Scientists!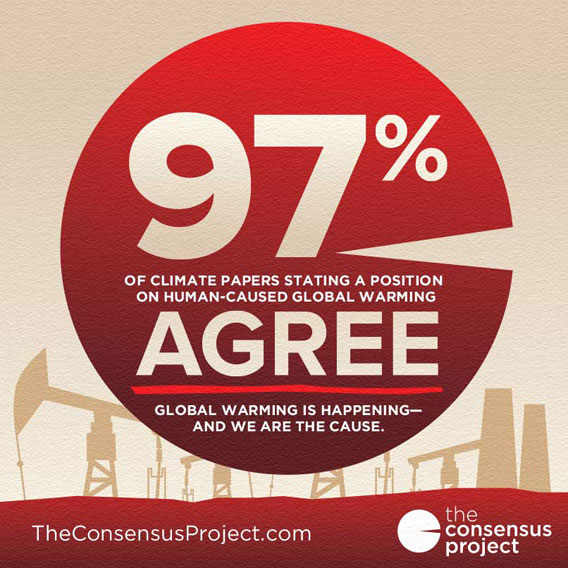 Anyway, we on the side of reality know that consensus is not proof of global warming—the scientific evidence of global warming is overwhelming and obvious, as well as very easy to find. The actual point of discussing the consensus is that due to the relentless effort of deniers, the public thinks this is a real controversy. It isn't. The consensus shows that the vast majority of actual climate scientists agree that global warming is real, and we're to blame.
Which brings me to this head-desking bit of denial:
2) Lamar Smith's Embarrassing Editorial
It's not clear to me why some people deny the fact of global warming. It may be ideological, or it may be due to funding sources (like huge amounts of cash dumped into denial by fossil fuel companies and the Koch brothers).
So what do you do when confronted by a denier, who says CO2 is good for us, or that ice is increasing, or that the Sun is the cause of warming?
And you should always have Skeptical Science on your bookmarks. It's one of the first places I go when I see some new climate antiscience that pops up in the deniosphere.