Hubble's Carineidolia contest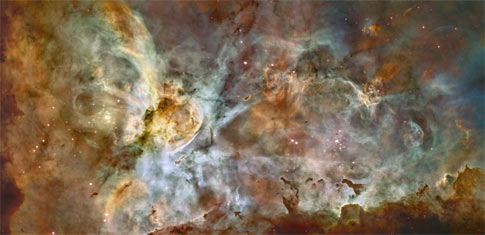 Like I said, gorgeous! [Click to keelhaulenate.]
Any structure with that kind of detail in it is going to spark your brain, making you see all sorts of things in it like faces, animals, and so on. This is called pareidolia, and is one of my favorite things of all time. It's so fun, in fact, that the folks at the Institute are holding a monthly contest which they call the Hubble Heritage Creative Challenge [Facebook link], and this month's contest is to find examples of pareidolia in the Carina Nebula. They have a few that have been submitted already on display.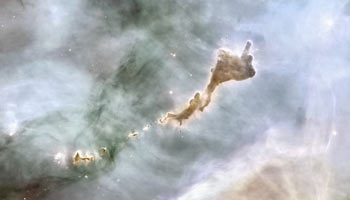 In fact, in a post I wrote back when this image was first released I pulled out some choice objects to discuss, and one of them is the famous finger you see here. I wouldn't suggest submitting it, though: the judges may rule against you prejudicially given the attitude conveyed.
But if you find something good, you can win a print of a Hubble image! The artwork with the most "Likes" will win. But hurry: the contest ends October 19.
Thanks to my friend Tiffany Davis at STScI for letting me know about the contest.
---