Zen Pencils: Welcome to Science
Science inspires me. It's a body of knowledge, a method of understanding, a way of seeing the Universe around you. It shows us what's true versus what isn't, and constantly reveals wonders and awe surrounding us that we might have otherwise entirely missed.
I'm not alone; science inspires a lot of people. One of them is Gavin Aung Than, a talented web comic artist. He created the site Zen Pencils, where he takes inspirational speeches -- many by scientists -- and draws comics that fit them. While these are web comics, he is able to putting images to the words that add a dimension and depth to them that is simply wonderful. He's done this for people like Carl Sagan, Neil Tyson, and Neil Gaiman.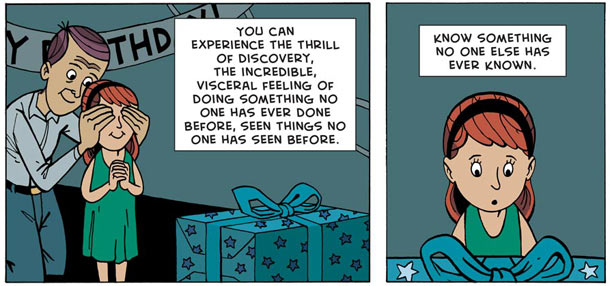 Click to see the whole thing. The way he's drawn the last bit actually chokes me up a little bit. Wow.
I am simultaneously proud and humbled by this -- a Schrödinger's Box of emotions. My thanks to Gavin, and to everyone who finds a small bit of inspiration themselves from it.
---