Alan Friedman is a photographer who takes amazing pictures of the Sun. While others were out celebrating Cinco de Mayo this past weekend, he was outside taking another jaw-dropping image of the nearest star in the Universe: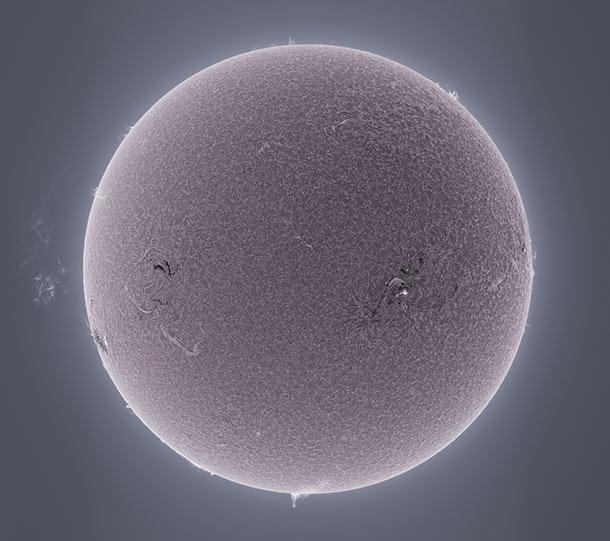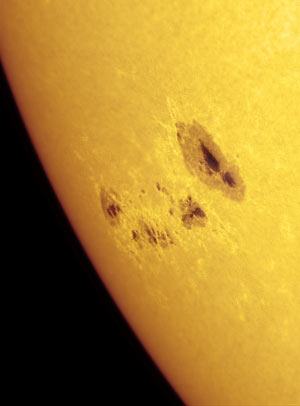 I love the detail and texture of his images. He has an excellent telescopic setup which yields the superb resolution, and he employs an old trick to get the texture: he inverts the image of the Sun's disk, making black stuff look white and vice-versa. This is a technique that's been used by astronomers for decades to enhance images; our eyes see details better that way. When Alan does it, I swear it makes the Sun look like a 1.4 million-kilometer-wide shag rug.
All the way on the left, just on the Sun's edge, you can see a group of sunspots just rotating into view. That's Active Region 1476, and Alan provided me with a clear picture of them (no tom-foolery) which I've put here. That monster group is about 100,000 kilometers (60,000 miles) across, so when I saw them I immediately suspected trouble.
… and sure enough, they had a medium-sized eruption just this morning. At 13:00 UTC they blasted off an M1.4 class flare; big enough to potentially cause some radio disruption and maybe some aurorae. NASA's Solar Dynamics Observatory got a dramatic view of the eruption:
---