Followup: Antivaxxers, airlines, and ailments
As usual, I have a very, very hard time feeling any sympathy for Dorey, especially when measles is roaring back into the population. Measles is easy to prevent with a simple vaccination, but due in large part to the antivax effort (and I include religious exemptions in that group) it's still out there and infecting more and more people.
Some folks are fighting back, though. While I was in Utah last weekend I saw some great billboards promoting vaccines. Shane Larson, an astronomer at Utah State University where I spoke, grabbed a great photo of one: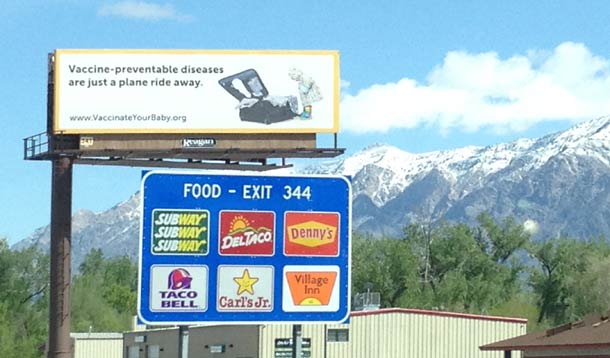 That shot shows the billboard in context and might be hard to see with everything else in the picture. Here's a zoom on the billboard itself:

It says, "Vaccine preventable diseases are just a plane ride away" and shows a child standing next to an open suitcase. The line refers to the fact that Europe and other countries are seeing a resurgence in measles and other diseases due in part to the antivax movement, and if you're not vaccinated, you can bring those diseases back to the US. Measles was stopped natively in this country in 2000 due to high vaccination rates, but international travel has brought it back. That's not speculation; we know this has happened.
The billboard links to the wonderful website Vaccinate Your Baby, which has great advice -- science-based, reality-based, fact-based, and truthful -- about vaccinations.
Tip o' the needle to Liz Ditz for several of the links in this article.