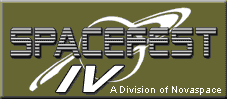 Like space? Like astronomy? Wanna meet some astronauts, astronomers, space artists, and hang out with like-minded space enthusiasts?
Then you want to come to Space Fest IV, a convention for people with their feet on the ground but their heads in the clouds.
I went to the first and second SpaceFests and had a great time, and that's why I'll be back at SpaceFest IV! I'm speaking at 09:00 Saturday morning, and generally hanging out and soaking up the awesome. Admission for all three days starts at $105, and there are lots of special packages.
I hope to see y'all there!
---