Desktop Project Part 11: Upside down volcano plume
[Over the past few weeks, I've collected a metric ton of cool pictures to post, but somehow have never gotten around to actually posting them. Sometimes I was too busy, sometimes too lazy, sometimes they just fell by the wayside... but I decided my computer's desktop was getting cluttered, and I'll never clean it up without some sort of incentive. I've therefore made a pact with myself to post one of the pictures with an abbreviated description every day until they're gone, thus cleaning up my desktop, showing you neat and/or beautiful pictures, and making me feel better about my work habits. Enjoy.]
I imagine it gets pretty cold in the Russian Kamchatka peninsula in winter. Even an active volcano belching out steam might not be able to help much... but it sure looks pretty cool!
Advertisement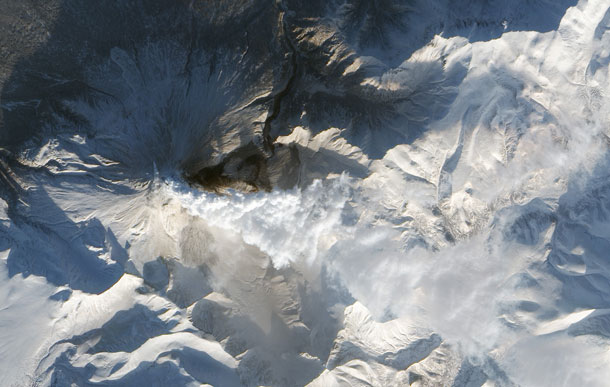 That's the Kizimen volcano, which has been erupting since late 2010. This picture was taken by the Earth Observing-1 satellite in December of 2011. As you can see, snow is abundant, except where ash has fallen and shaded the ground brown. The plume is steam, but that must freeze pretty quickly once it hits that frigid air.
Even so, thermal imagery of the site shows fresh lava on the ground is still heating the place up. But, I'm guessing given the rest of this picture, not very much!
Image credit: NASA Earth Observatory/Jesse Allen and Robert Simmon, using EO-1 ALI data
TODAY IN SLATE
Politics
Blacks Don't Have a Corporal Punishment Problem
Americans do. But when blacks exhibit the same behaviors as others, it becomes part of a greater black pathology.
Lifetime Didn't Think the Steubenville Rape Case Was Dramatic Enough
So they added a little self-immolation.