TED talks now on Netflix... including mine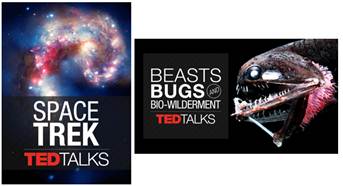 I just got a press release that the folks behind the TED conference have partnered with Netflix, and many of the TED talks will now be available through the online video server. That's pretty cool!
If you are a Netflix subscriber these talks are free. I'll note they're all online at the TED site as well, but this may open up the talks to a bigger audience, which I think is just fine. I have Netflix, and found them easily by searching on "TED" (duh).
Not only that, but TED has a new initiative for education called TED-Ed: Lessons Worth Sharing. These are short, great educational lessons that fit well inside established classroom curricula. There are lots of such things available, of course, but these are hand-picked and will augment a teacher's lessons. I think this is a cool idea, since TED already has a trusted brand and a wide audience. Just to be clear, there lessons are online, not on Netflix like the big talks.
If you don't have Netflix, well, like I said you can find these talks on the TED website. And because why not, here's mine. Enjoy:
[You may need to refresh the page to get the video to load.]
---