Five shots against global warming denialism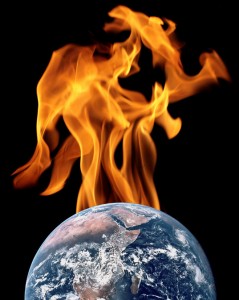 It's a truism that whenever I write about the solid fact that the Earth is warming up, that post will get comments that make it clear that denialists -- and please read that link before commenting on my use of the word -- are like religious zealots, writing the same tired long-debunked arguments that are usually debunked in the very post they're commenting on.
Still, we press on. The noise machine only wins if they can outshout reality, so it's important to keep writing about it. Here are five news items about climate change that might help mitigate the nonsense.
2) Some very welcome news: the National Center for Science Education -- who for years have been at the forefront of battling creationists getting their "curriculum" into schools -- is adding climate change to their syllabus. At that link they have well-written descriptions of the problem, how to teach about climate change, and how take action against denialism.
You can watch NCSE's Executive Director, the wonderful Genie Scott (full disclosure: she's a friend of mine) talk about climate change, and why it's so important that we tackle this issue politically.
4) Apropos of that, some good news in the fight: the Climate Science Legal Defense Fund -- which helps raise money for beleagured scientists under attack by denialists -- has a new home: Public Employees for Environmental Responsibility (PEER). PEER will provide sponsorship and logistical support for the fund. Money raised goes to help defray the costs of legal fees for scientists who are the subjects of the above-mentioned witch hunts. The CSLDF also helps educate scientists about their rights, recruits lawyers to help out, and serves as an information database related to legal actions against scientists.
---