The odds of successfully surviving an attack on an Imperial Star Destroyer are approximately...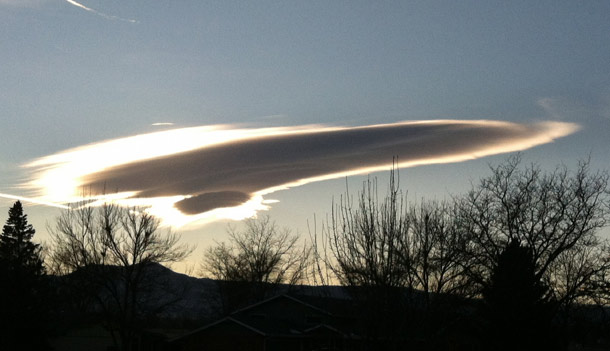 Yegads. I saw this while I was outside the other day; that's a lenticular cloud, shaped by winds blowing over the Rocky Mountains. We see a lot of them around Boulder, but this one looked really familiar. I suddenly realized: it's a ship from Star Wars!
I thought it looked a lot like Queen Amidala's ship. But I couldn't be sure, so I sent a note to my pal Bonnie Burton, aka BonnieGrrl, the proprietor of grrl.com, and major Star Wars dork. She concurred with my conclusion of the cloud looking like a Naboo Royal Starship (I was careful not to bias her by suggesting it; she mentioned it herself). And Bonnie should know: she literally wrote the book on Star Wars crafts!
Moisture and updrafts matter not. Look at me. Judge me by my convection do you? Hmm? Hmmm?
---