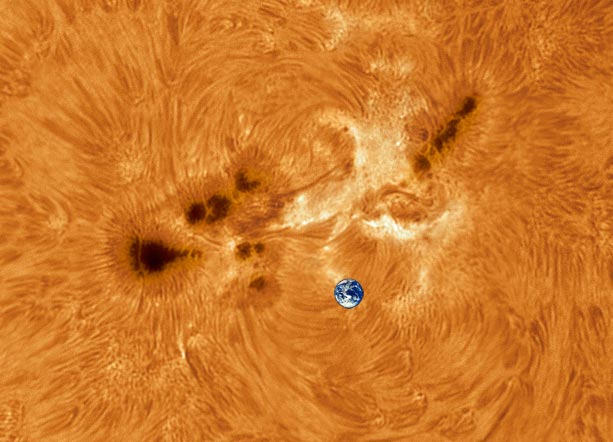 This picture was taken using an Hα filter, which picks out the light from warm hydrogen, and really shows the texture of the solar surface. I added the Earth in there just to give you a taste of how fracking huge this cluster is; the scale should be pretty close. Obviously, several of the individual spots in AR 1339 are as big or bigger than our entire planet, in case you happened to feel too big for your britches today.
... but still. The thing is, we're starting to understand sunspots, better than any time in human history before us. Heck, a few centuries ago most people didn't know sunspots even existed, and if you had said they did -- violating the Aristotelian perfection of the heavens -- they would've laughed at you. If you were lucky. Some folks had a really hard time dropping Aristotle's influence.
Chinese curses be damned: we do live in interesting times, and I'm glad. I wouldn't have it any other way.
Image credit: Alan Friedman, used by permission.
---