I believe without reservation that this may be the greatest instance of pareidolia of all time: an ultrasound of a man experiencing epididymo-orchitis, or pain and swelling of a testicle: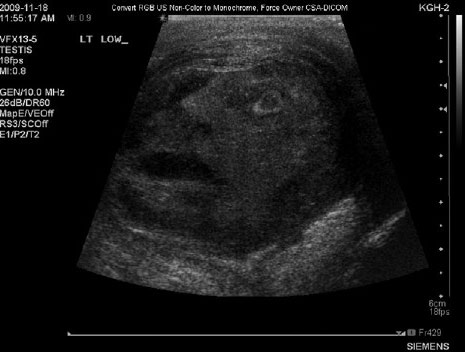 Advertisement

Having suffered through a similar (if less traumatic) version of this, may I add that the expression on the man's, um, "face" is exquisitely accurate.
Tip o' the codpiece to my Hive Overmind co-blogger Ed Yong on Google+. Original image: Elsevier, Inc.
TODAY IN SLATE
Sports Nut
Grandmaster Clash
One of the most amazing feats in chess history just happened, and no one noticed.
The Extraordinary Amicus Brief That Attempts to Explain the Wu-Tang Clan to the Supreme Court Justices
The Human Need to Find Connections in Everything
It's the source of creativity and delusions. It can harm us more than it helps us.