Great news: Russians successfully launch Soyuz rocket to ISS!
Yesterday, October 30, 2011, the Russian space agency Roscosmos successfully launched a new Progress spacecraft on a Soyuz rocket, the same kind of rocket that failed in August and caused such worry.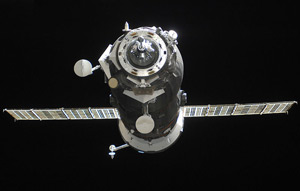 The Progress is in orbit and scheduled to dock with the ISS on November 2. It's carrying nearly 3 tons of food, fuel, and supplies for the astronauts. Because of this success, another rocket launch is planned on November 13, carrying three more astronauts up to ISS. Usually there is a crew of six on board, but three of the six astronauts came home in September, leaving three to stay on ISS until more could be launched. The September mission bringing three of the crew back to Earth had to occur then because the vehicles used to bring them home can only stay docked on the ISS for about 200 days before the age of the fuel becomes a problem.
So this is good news for NASA, Roscosmos, and the men aboard ISS, who could probably use six more hands helping out. I'm glad to see this problem -- which could have been potentially disastrous -- on its way to being behind us.
---