Doomed ROSAT captured in video
I actually kinda half-expected this would happen: the fantastic "amateur" astronomer Thierry Legault was able to observe and get video of the astronomical satellite ROSAT as it's making its final orbits around the Earth:
He also observed it on October 16th, but I think the video above from late September shows it better.
To show you how good this is, I took an image he provided of stills from his video and added a drawing of the satellite below them: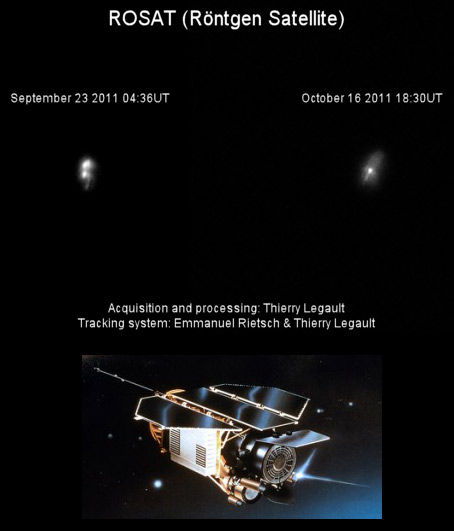 Amazingly, in Thierry's images you can clearly see the boom extending from the satellite's main body (at the bottom of the photos, and off to the left in the drawing). That boom holds a magnetometer (to measure the Earth's magnetic field) and an antenna used to communicate with Earth. From what I can tell, the boom is about 4.4 meters (14.4 feet) in length. In that September image, ROSAT was over 450 km (270 miles) away from Thierry when he took it!
---