[Update: ARG! In the original post, I had put up a picture that did not have Endeavour docked to the Space Station. My mistake; I grabbed the wrong image from Dani. I have fixed it below. Sorry for any inconvenience.]
Endeavour is safely back on Earth. But while it was docked to the International Space Station, it cast a long, long shadow... which you can see in this astonishing picture: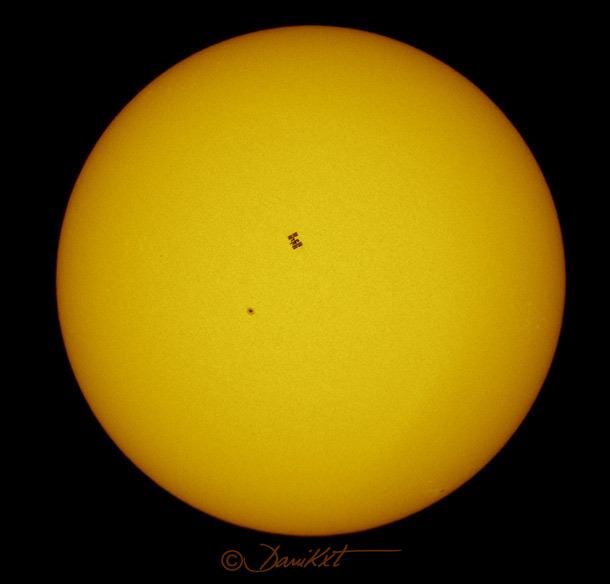 [Click to ungdwarfenate.]
Cool, isn't it? I know, it's small -- you can see it more clearly in the full-res picture -- but here's a close-up: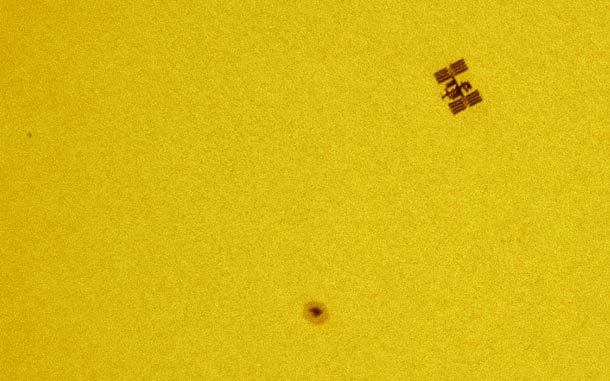 You can now see the ISS much better (along with a sunspot -- note that spot below the ISS is roughly the size of the Earth!); Endeavour is the long fuzzy bump on the top of the horizontal bar on the upper right going between the two sets of solar panels.
It's funny: I know the math. At the distance of the ISS over the ground (350 km), the human eye has just enough resolution to see the space station as more than a dot. Maybe a very slightly elongated dot. Through binoculars you should be able to detect the solar panels, and through a good telescope far more detail is apparent.
But still, to see it in a photo makes the math real. That's a spaceship and you can see it! That's pretty nifty.
And we still have one left. Atlantis is scheduled to launch on July 8. I certainly hope that there are more photogenic opportunities like this one, and there are more photographers out there like Dani willing to try to capture it.
Image credit: Dani Caxete, used with permission. My thanks to Manu Arregi for pointing Dani's work out to me!
---